This is an archived article and the information in the article may be outdated. Please look at the time stamp on the story to see when it was last updated.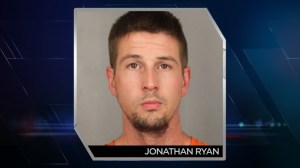 CENTENNIAL, Colo. — Armed officers swarmed a home in Centennial on Wednesday afternoon before arresting a man who allegedly shot his 71-year-old father in the face a day earlier.
Police were first called to the 5500 block of South Jebel Way on Tuesday afternoon after a 71-year-old man called 911. First responders found the man suffering from a gunshot wound and they soon learned the man's son, Jonathon Ryan, had allegedly pulled the trigger before fleeing the scene.
The Arapahoe County Sheriff's Office notified the public and the media about the search for Ryan and his pickup on Tuesday night. On Wednesday afternoon, a neighbor called 911 to report Ryan's truck had returned to the home.
"We don't know if he actually knew that we had put information out looking for him," said Julie Brooks, spokeswoman for the Arapahoe County Sheriff's Office. "Certainly don't know what his motives were to return, but we're happy he did, we're happy he's off the streets, that we were able to make an arrest."
That caught many in the neighborhood off guard on Wednesday. Joseph, a longtime neighbor, recorded cellphone video from his home as officers surrounded the home and yelled for Ryan to surrender peacefully, which he eventually did.
"When cops with guns are out I'm concerned," Joseph said. "I was shaking because it was, it was like hearing a movie that was really drawn out and slow. It was like, wow there is SWAT down here, there's cops over here, they have guns, what is going to go down here?"
As the arrest played out in the neighborhood, Timberline Elementary School went on "secure perimeter" a few blocks away, meaning parents were called on to pick up their students if they normally walk home.
"It makes me feel at ease that they're doing that," parent Darryl Romero said.
"As a parent, those are the things that you fear, that you are nowhere around (when something happens)," Marques Brigham said. "To have those guys here doing their job, and ladies as well, just grateful for that."
Investigators were grateful as well.
"We're happy that neighbors were paying attention and neighbors were watching the area," Brooks said.
Now neighbors will be watching, and hoping, to see if the victim returns.
"It's saddening because that guy, he's always walking his dog around here," Joseph said. "He's a nice guy, good to the community. He's never said a bad thing about anyone that I've heard, and what's weird is nobody really hears anything about them disputing at all."
Ryan was arrested on charges of attempted first degree murder, first degree assault and crimes against at-risk adults.
[protected-iframe id="9df23488e9da78fdda855a31855955c6-29290497-12443415″ info="https://www.google.com/maps/embed?pb=!1m18!1m12!1m3!1d3073.5092307018854!2d-104.74982779999999!3d39.615736600000005!2m3!1f0!2f0!3f0!3m2!1i1024!2i768!4f13.1!3m3!1m2!1s0x876c8bfd09eca1c5%3A0x5d8e8393a966800c!2s5500+S+Jebel+Way%2C+Centennial%2C+CO+80015!5e0!3m2!1sen!2sus!4v1441854962936″ width="600″ height="450″ frameborder="0″ style="border:0″ allowfullscreen=""]