This is an archived article and the information in the article may be outdated. Please look at the time stamp on the story to see when it was last updated.
TIMNATH, Colo. -- A man accused of sexually molesting a 6-year-old boy inside of a Timnath Walmart is being sought after bonding out of jail and failing to report back.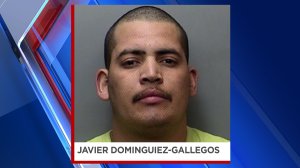 According to an arrest affidavit, 28-year-old Javier Dominguez-Gallegos cornered the young boy in the men's restroom at the store at 4500 Weitzel St.
The Larimer County Sheriff's Office said Dominguez-Gallegos touched the victim's genitals and attempted to expose himself to the child while in the restroom on Nov. 29.
The boy, who is not being identified, told detectives that he didn't know Dominguez-Gallegos but he was able to positively identify him.
The affidavit describes the child as being "startled" by the molestation.
"My heart sunk," the victim's dad said.
"I cried that night, I paced around the house," the victim's mom said. "That's terrifying. If he had not wiggled out of this guy's arms, what would have happened to him?"
What has the family up in arms is that Dominguez-Gallegos is on the loose after being arrested and posting bond twice.
"The court system failed in my opinion," the father said.
The parents say the first bond was $300, the second was $1,000. When the suspect was called to court, he was a no-show.
The parents say all of this could have been prevented.
"Yes, I know it could," the victim's mom said, "If they have had a higher bond, or no bond, he wouldn't be walking around."
Dominguez-Gallegos told detectives he lives in Wyoming. The parents just want him behind bars.
"Any day this would've been horrible, but your birthday when you're 6, you don't want to remember your birthday like that," the mother said.
The parents say the boy has processed the incident very well.
Anyone who sees Dominguez-Gallegos or has information is asked to call the sheriff's office.