This is an archived article and the information in the article may be outdated. Please look at the time stamp on the story to see when it was last updated.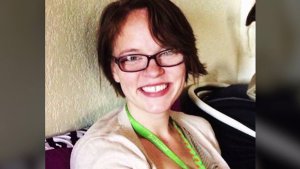 BOULDER, Colo. — The man arrested in Oklahoma in the death of a Boulder mother has been extradited to Colorado and made an appearance in a Boulder courtroom on Tuesday morning.
Adam Densmore, 32, was booked into the Boulder County Jail at 1 p.m. Monday. He has been charged with first-degree murder, tampering with a deceased human body, tampering with evidence and abuse of a corpse.
He is accused of killing the mother of his child, 25-year-old Ashley Mead, in Boulder on Feb. 12.
Investigators believe he then dismembered her body in Louisiana. Densmore was later found, along with their 1-year-old daughter, in Oklahoma. The girl is safe.
But Mead's partial remains were found in a dumpster in Okmulgee, Okla., about 40 miles south of Tulsa, on Feb. 15.
Investigators are still looking for a purple suitcase they believe could contain the rest of Mead's remains. The suitcase could be anywhere Densmore traveled after leaving Boulder.
Police are still investigating Densmore's exact travel route, but they believe he left Boulder on Feb. 12 and traveled to Raton, N.M.
He then went south and east through the Texas Panhandle before arriving in Haughton, La., on Feb. 13. On Feb. 14, police said Densmore drove to Conway, Ark., where he spent the night.
On Feb. 15, he drove to Okmulgee before being located and arrested about 1:30 p.m.
Police said the investigation is ongoing. Anyone with information is asked to call police at 303-441-1974 or Northern Colorado Crime Stoppers at 800-222-8477.