This is an archived article and the information in the article may be outdated. Please look at the time stamp on the story to see when it was last updated.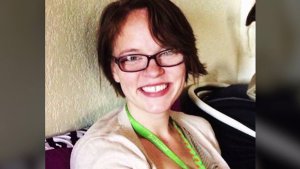 BOULDER, Colo. — The man accused of killing a dismembering a Boulder mother made his first court appearance on Tuesday morning.
Adam Densmore, 32, was booked into the Boulder County Jail at 1 p.m. Monday after being extradited from Oklahoma.
He has been charged with first-degree murder, tampering with a deceased human body, tampering with evidence and abuse of a corpse in the death of 25-year-old Ashley Mead.
Wearing a light blue jumpsuit, Densmore did not speak and was held without bond. He waived his right to have a hearing within 30 days. A preliminary hearing was set for May 4.
Densmore's attorneys requested warrants to remain sealed to protect their client's right to a fair trial. A motion will be filed by Friday and the judge will rule soon thereafter.
"There's close to about 40 warrants involving searches of premises of vehicles, of cellphones, etc.," Boulder County District Attorney Stan Garnett said. "Every warrant is supported by an affidavit that lays out the facts of the case and probable cause."
A motive for the killing has not been announced and Garnett declined to speak about it.
Densmore is accused of killing Mead, the mother of his child, in Boulder on Feb. 12.
Investigators believe he then dismembered her body in Louisiana. Densmore was later found, along with their 1-year-old daughter, in Oklahoma. The girl is safe.
But Mead's partial remains were found in a dumpster in Okmulgee, Okla., about 40 miles south of Tulsa, on Feb. 15.
Investigators are still looking for a purple suitcase they believe could contain the rest of Mead's remains. The suitcase could be anywhere Densmore traveled after leaving Boulder.
Police are still investigating Densmore's exact travel route, but they believe he left Boulder on Feb. 12 and traveled to Raton, N.M.
He then went south and east through the Texas Panhandle before arriving in Haughton, La., on Feb. 13. On Feb. 14, police said Densmore drove to Conway, Ark., where he spent the night.
On Feb. 15, he drove to Okmulgee before being located and arrested about 1:30 p.m.
"I do really think the public should know that this case and the investigation into this case was a terrific example of excellent excellent investigative work," Garnett said.
"First of all by the Boulder Police Department. They did a terrific job on this case. They also got the Federal Bureau of Investigation involved very quickly. And there was a very significant cooperation from police officials in Louisiana and Oklahoma."
The girl was placed into child protective services in Oklahoma but Garnett would not say where she was.
"It appears to be a number of very loving and supportive family members and I've been very impressed by both the Oklahoma Department of Social Services and Colorado to make sure that Winter is well taken care of and she's doing fine," Garnett said.
Police said the investigation is ongoing. Anyone with information is asked to call police at 303-441-1974 or Northern Colorado Crime Stoppers at 800-222-8477.