This is an archived article and the information in the article may be outdated. Please look at the time stamp on the story to see when it was last updated.
ARAPAHOE COUNTY, Colo. — A Colorado father accused of intentionally crashing a car to try to kill his 2-year-old son appeared in court Monday, but his arraignment hearing was continued.
Nathan Weitzel, 29, was involved in a crash on Eudora Way in Centennial in August.
Weitzel faces charges of attempted first-degree murder, child abuse resulting in serious bodily injuries, second-degree assault, criminal mischief, vehicular assault and unlawful possession of a controlled substance.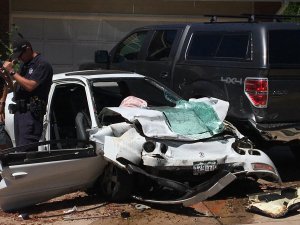 Weitzel told Arapahoe County sheriff's deputies he was traveling between 65 mph and 75 mph when he rammed his vehicle into a parked car in the neighborhood.
He allegedly told investigators, "I was trying to kill my son. I did it on purpose."
Investigators said Weitzel told them he wanted to kill his son because "being a father is a big responsibility and he did not think he was man enough to raise a child."
Weitzel allegedly said he took the 2-year-old to a park where he planned the death. He said he then drove around looking for a good place to crash his car to kill his son.
Witnesses said Weitzel tried to fight firefighters who responded to the crash scene and investigators said firefighters had to stop Weitzel from slitting his throat with a piece of glass.
The boy suffered a broken leg, a concussion and a big cut to his forehead that required about 20 stitches.
Weitzel's arraignment is scheduled for April 3.