This is an archived article and the information in the article may be outdated. Please look at the time stamp on the story to see when it was last updated.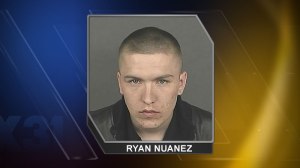 DENVER — On Wednesday, the Denver District Attorney's Office formally charged a man accused of crashing his vehicle into a building.
Ryan Nuanez, 24, faces vehicular assault, three counts of third-degree assault, driving under the influence of drugs and driving under revocation, Denver District Attorney Mitch Morrissey said.
According to the charges, Nuanez was driving northbound on S. Colorado Boulevard Saturday when he crossed over the southbound lanes and crashed into a building on the 2800 block of S. Colorado Boulevard.
The accident injured a man and three women, who were inside the building at the time of the crash.
Nuanez is in custody and his bond is set for $50,000, said the DA's Office.
He is scheduled to appear in a Denver County court Friday at 9:30 a.m. to be formally advised of the charges.