This is an archived article and the information in the article may be outdated. Please look at the time stamp on the story to see when it was last updated.
AURORA, Colo. — An Aurora woman lost a job but still won big.
Yahnique, whose last name was withheld, quit her job as a certified nursing assistant in January before lining up another job.
After hitting the $3.3 million Lotto jackpot on Saturday, she can put that search on hold.
Yahnique hit the jackpot with a quick pick ticket she bought at a King Soopers on South Havana Avenue and took the annuity option.
She and her husband will collect 25 checks distributing the $3,312,287 over time.
Yahnique, who has been an avid Lotto player for more than 30 years, checked the Colorado Lottery's website for winning numbers. Her husband initially thought the big win was part of a practical joke.
"I was highly suspicious but then I thought, there's no way she could mock up their whole website," said Bruce, who works in electrical maintenance. "I mean, she knows her way around the computer. But not that well."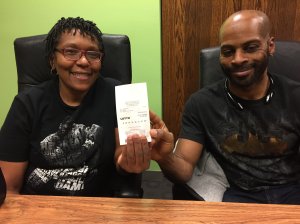 The couple have three sons aged 17, 21, and 24 and plan to pay bills and make home improvements.
Proceeds from the Colorado Lottery's games protect and improve parks, recreation areas, wildlife, trails and open space in Colorado.