This is an archived article and the information in the article may be outdated. Please look at the time stamp on the story to see when it was last updated.
LONGMONT, Colo. — Police arrested a man who attempted to kill his wife in a domestic violence incident late Saturday night.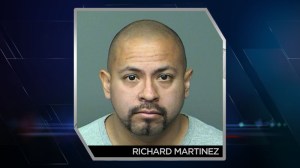 Longmont dispatchers received a 911 call at 11:48 p.m. from Richard Martinez, 35. He told them, "I'm going to kill my wife," then hung up.
A police officer arrived at the 1600 block of Main Street at 11:51 p.m., where he said he heard screaming coming from the apartment. Shortly thereafter, a woman ran out of the building and hid behind the officer's back.
"Please help me! He tried to kill me! He hit me and choked me! He is still inside and he has a knife," she told the officer, according to police reports.
"He had a knife to my neck. If it wasn't for those officers that raced down here I probably wouldn't be talking to you right now. I would probably be dead," said Yolanda Martinez.
Police were able to determine the suspect choked the woman, held a knife to her throat and pushed her into a glass coffee table so hard that the glass shattered.
Yolanda was able to escape when the suspect was distracted by an unknown noise.
This slideshow requires JavaScript.
Martinez then came out of the apartment holding two large knives that appeared to have come from a kitchen block, police say.
The responding officer shielded the woman and drew his handgun, commanding the suspect to drop the knives. The suspect did not do so, but stopped about 15 feet away. Another officer arrived for back up.
"Shoot me, just shoot me," Martinez reportedly said. "You're going to shoot me anyway."
Just as the officer said he was prepared to shoot the suspect, another officer arrived and was able to fire a taser at the suspect. The suspect dropped the knives and fell to the ground.
Martinez was arrested and has been charged with attempted first-degree murder, third-degree assault, felony menacing and domestic violence, with additional charges possible as the investigation continues.
"Our officers saved two lives last night," Commander Jeffrey Satur said. "They showed great restraint, put themselves in harm's way for the victim, shielding her from the suspect, yet, they remained calm, worked as a team and used a less lethal tool to resolve a deadly confrontation."
Yolanda was transported to the Medical Center of the Rockies for treatment.
"I was mainly scared he was going to get away and come after me again," Yolanda said. "One of the officers, he just grabbed me so tight and said you're okay, you're fine, you're safe."
Martinez is currently being held at the Boulder County Jail.
Listen to the 911 call.