This is an archived article and the information in the article may be outdated. Please look at the time stamp on the story to see when it was last updated.
LONE TREE, Colo. — The city of Lone Tree isn't looking so "lonely" these days. It's one of the fastest growing suburbs in metro Denver.
The city's population has grown by more than 5,000 people over the past decade and is expected to rise from 13,175 residents in 2015 to more than 31,000 by 2035.
What was once open fields is now homes and businesses.
"None of this existed. Sky Ridge wasn't here. Charles Schwab wasn't here. None of these businesses were here. It was just open space," said Denisse Coffman with the city of Lone Tree as she surveyed the recent development.
"The growth has been pretty tremendous really, mainly because of RidgeGate. There's been a 20 percent growth in their population over the past five years but their employment has also grown," added Keith Simon with Coventry Development Corporation, the developer behind the RidgeGate project.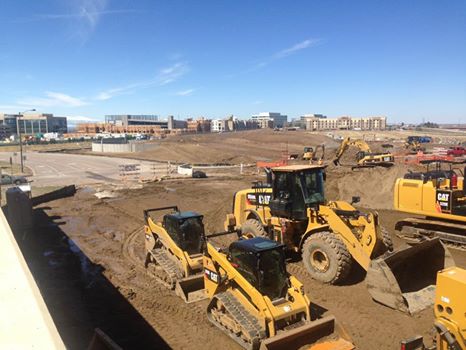 RidgeGate is the name of the master-planned community responsible for the city's growth. The community consists of an even mix of residential and commercial space.
"This land was purchased by our group in 1972. It sat dormant for almost 40 years before we ever did anything," Simon said.
So far, much of the development has surrounded Sky Ridge Medical Center, west of Interstate 25. Now comes phase two: The addition of more than 7,000 homes and businesses east of the highway.
"We definitely think this is a prime location for growth," Coffman said.
Light rail is being extended to accommodate that growth. Work on a roughly 2.5-mile expansion of the tracks from the Lincoln Avenue Station to RidgeGate Parkway has begun.
Three new light rail stations will also be built. They're set to open in early 2019.
"The three stations are within walking distance of about 500 acres of development land, so that's pretty phenomenal actually," Simon said.
The development will also include land set aside as parks and open space, much of it within walking distance of the light rail stations and I-25.