This is an archived article and the information in the article may be outdated. Please look at the time stamp on the story to see when it was last updated.
ALBANY COUNTY, Wyo. — A wildfire in southeastern Wyoming reported Sunday afternoon had already grown to 2,300 acres by Monday night, according to officials.
The Badger Creek Fire is burning about 2 miles north of the Colorado state line in the Medicine Bow National Forest.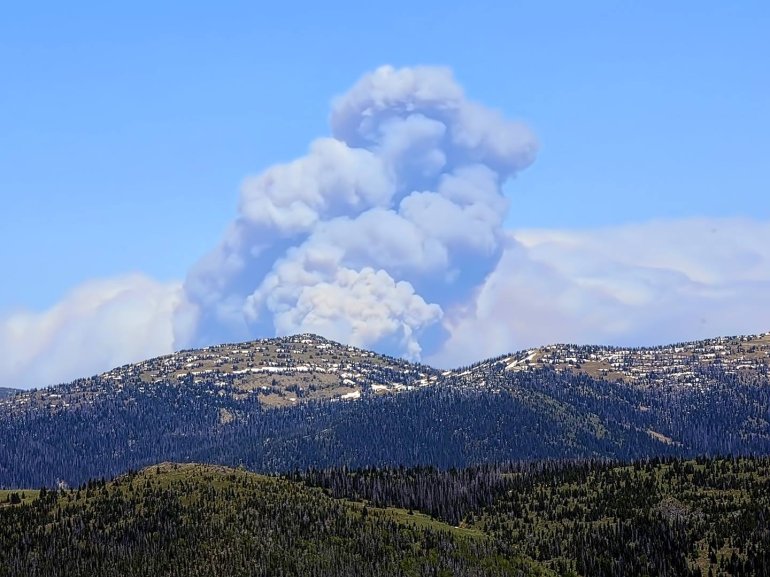 A number of new evacuations have been ordered for the area along Highway 10 between Woods Landing and the Colorado border. New communities under evacuation orders include Woods Landing, New Jelm and Jelm.
The communities of Mountain Home, Wold Tract, Wyocolo, Foxpark, Gramm, Beehive and Miller Lake had already received evacuation orders.
Foxborough is under a pre-evacuation notice.
"At this time, there is no confirmation of structures that have been burned or destroyed," authorities said.
The fire crossed Wyoming Highway 230 between Wold Tract and Mountain Home. The highway is now closed.
A "Type II Team" has been requested to take control of fire operations. The Rocky Mountain Region's Black Team will take command on Wednesday.
About 70 people are fighting the fire. Equipment fighting the fire includes four heavy tankers and a helicopter.
Crews cut power to the fire area as a precaution.
Weather conditions remain challenging for firefighters. More hot, dry and windy weather is expected Tuesday.
"Evacuees are being asked by Albany County to email ema@co.albany.wy.us with accurate contact information so that consistent information sharing can be maintained," officials said.
Horses can be evacuated to Stonehouse Stables. Those doing so should call 307-742-7512.
The United States Forest Service Law Enforcement is asking the public for tips about the fire's cause. Investigators request anyone with information call 307-745-2392 (option 5).