This is an archived article and the information in the article may be outdated. Please look at the time stamp on the story to see when it was last updated.
DENVER — Westbound Interstate 70 was shut down on Thursday after a high-speed chase involving an armed carjacking suspect out of Arapahoe County, officials said.
The suspect, described as an adult male, was taken to a hospital with what the Denver Police Department described as an apparent self-inflicted gunshot wound. He later died.
Westbound traffic on the interstate was closed at Interstate 270 and backups extended for miles.
Police said the interstate is expected to remain closed through the afternoon commute and that drivers should find alternate routes.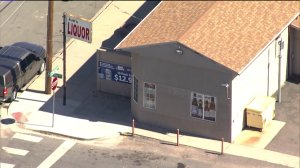 The Arapahoe County Sheriff's Office said an armed robbery happened at a liquor store on Main Street in Strasburg, about 35 miles east of Denver, about 10:45 a.m.
The sheriff's office said the suspect then stole a vehicle that a deputy saw on Interstate 70 and began pursuing.
The chase reached speeds in excess of 100 mph before it ended on I-70 near the Washington Street exit in Denver about 11:30 a.m., the sheriff's office said.
Several deputies were seen with guns drawn on the white vehicle that was stopped next to a rental truck on the interstate.
Deputies later pulled the man out of the vehicle and were seen performing chest compressions before taking him to a hospital.