This is an archived article and the information in the article may be outdated. Please look at the time stamp on the story to see when it was last updated.
DENVER — A family in Denver hopes security camera video of a thief stealing their dog from their front yard will help bring the pet back home.
It happened Tuesday afternoon near East Sixth Avenue and Monaco Parkway.
The video shows the thief driving past the house in a black vehicle, then returning to take the dog.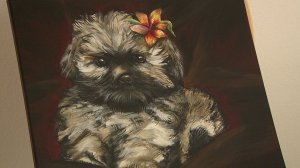 After seeing the crime, a neighbor alerted the family about what happened.
The family said they just want Zoe back.
"She brings joy to the neighborhood. There are children that walk home from school every day that come and see her and pet her," owner Jaime Gastelle said.
"It's horrible that this has happened and I think the entire neighborhood is devastated."
Zoe is a 7-month-old Shih Tzu. Anyone with information is asked to call the Denver Police Department.