This is an archived article and the information in the article may be outdated. Please look at the time stamp on the story to see when it was last updated.
AURORA, Colo. —  An SUV ran into an IHOP dining room on Mississippi Avenue near Interstate 225 on Thursday, the Aurora Police Department said.
An IHOP supervisor reports that at least three people are being treated for minor injuries and one for moderate injuries. The driver is described as elderly and a manager says that the driver lost consciousness behind the wheel.
No drugs or alcohol use are suspected at this time, police say.  APD states that traffic should not be impacted because the crash happened inside the restaurant and not on the road.
The IHOP is expected to reopen at 5 p.m. on Thursday.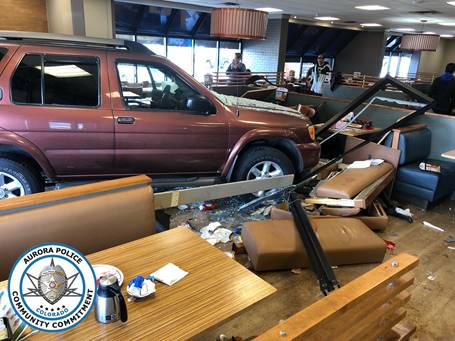 Scary situation for people at an Aurora IHOP pic.twitter.com/clqh5hBcPC

— Michael Konopasek (@MikeKonopasek) February 28, 2019