This is an archived article and the information in the article may be outdated. Please look at the time stamp on the story to see when it was last updated.
ADAMS COUNTY, Colo. — The National Weather Service said there were three confirmed tornadoes on the ground in eastern Colorado Friday afternoon.have been multiple reports of a confirmed tornado from a large storm east of the Denver area.
3:56 p.m.: Tornado with damage 7.5 miles south of Byers in Arapahoe County
4:00 p.m.: Tornado two miles NE of Ponderosa Park in Elbert County; no known damage
4:21 p.m.: Tornado 11 miles SE of Leader in Adams County; no known damage
There were multiple reports of tornadoes on the plains east of Denver.
A number of tornado warnings were issued for parts of Arapahoe, Adams, Morgan and Washington Counties.
Spotters are reporting a tornado about 9 miles Northeast of Deer Trail near US36 and the Adams/Arapahoe County line, moving slowly southeast. Tornado warning remains in effect for this area. Take cover now! #COwx

— NWS Boulder (@NWSBoulder) July 27, 2018
Margaret Nelson, a viewer from Elizabeth, took a photo of what appears to be a tornado from her home. It is unclear whether that tornado is the same one confirmed by the NWS.
View a gallery of storm photos from Friday by clicking here.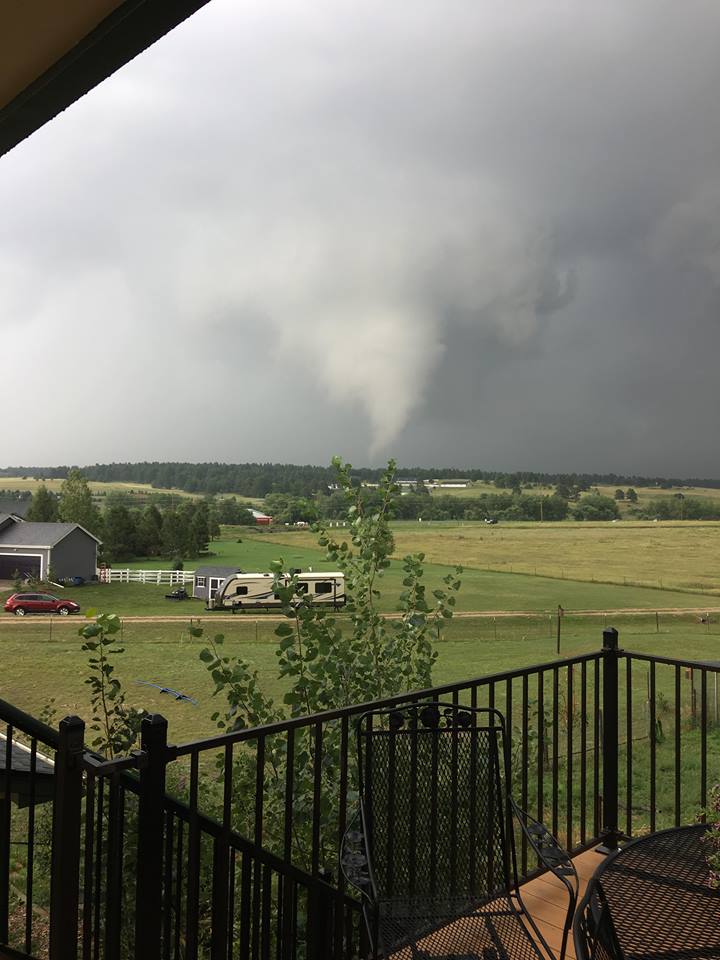 View our full Pinpoint Weather forecast by clicking here.