This is an archived article and the information in the article may be outdated. Please look at the time stamp on the story to see when it was last updated.
DENVER — The Denver City Council is expected to debate the approval of several new restaurants at Denver International Airport on Wednesday night.
Several restaurants are on the agenda for full council approval after going through the committee process.
The popular Colorado breakfast place is seeking an airport location, according to the proposals presented to city council.
The eatery started in Denver in April 2006 and has several locations around the metro area as well as California, Arizona and Texas.
The location would be at the B Concourse mezzanine.
Popular burger chain Shake Shack recently opened its first Colorado location and plans to open a second location in Highlands Ranch later in the summer.
The chain has been public about its plans for a location at DIA.
The proposal for Shake Shack also includes a new Qdoba and Jamba Juice locations in the B Concourse.
The Mexican food restaurant has five locations in Colorado with four in the Denver metro area and one in Colorado Springs.
According to the proposal, the restaurant would be located in the B Concourse.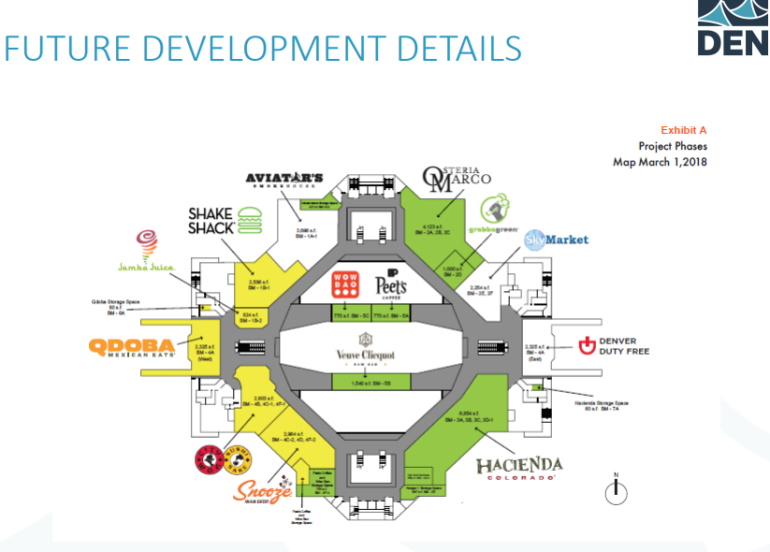 The Denver Italian eatery has a location in Larimer Square, but is part of the proposal for the B Concourse at the airport.
The San Francisco-based coffee shop has two locations in the Denver metro area — one downtown and one in Southglenn but is listed as part of the proposal for the B Concourse mezzanine along with Veuve Clicquot and Wow Bao.
GrabbaGreen is also in the proposal for a potential location in the B Concourse mezzanine.
The restaurant has three locations: Denver, Greenwood Village and Thornton. It offers food that is semi-organic and healthy.