This is an archived article and the information in the article may be outdated. Please look at the time stamp on the story to see when it was last updated.
FORT WORTH, Texas -- A Texas university fired its baseball coach on Thursday after he denied a recruit from Colorado, claiming that athletes from the state have "trouble passing" its drug tests.
Texas Wesleyan University said it fired coach Mike Jeffcoat for NAIA violations and because of the comments made in the email.
Before a news conference announcing the firing, the university said in a statement that it doesn't condone discrimination, including on the basis of the "political legislation of one's home state."
"Unfortunately, we are not recruiting players from the state of Colorado," Jeffcoat wrote in the email to Gavin Bell, a senior at Cherokee Trail High School in Aurora.
"In the past, players have had trouble passing our drug test. We have made a decision not to take a chance on Student-athletes from your state."
The coach finished the email by writing, "You can thank your liberal politicians. Best of Luck wherever you decide to play."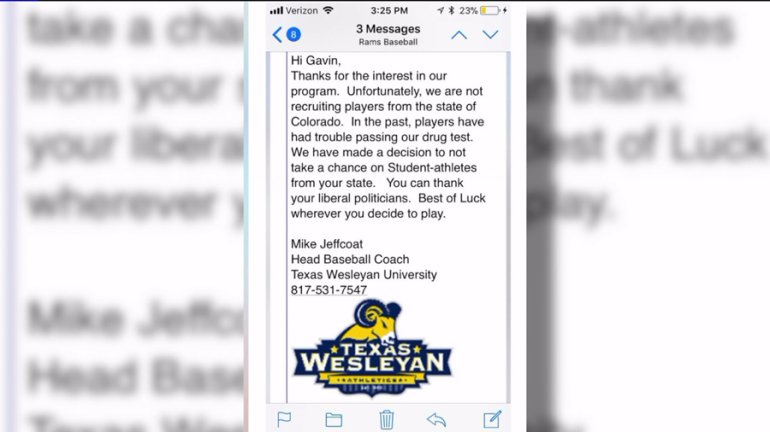 The email was sent to Bell on Feb. 20.
In 2012, Colorado voters approved recreational marijuana use. Sales began on Jan. 1, 2014.
Bell has been busy working through the college recruitment process and said he already has a couple offers.
The 18-year-old outfielder said he wants to focus on his upcoming college career.
"This wasn't meant to go viral for me or anything like," he said. "I just sent it to a high school teacher of mine and it just went public like that."