This is an archived article and the information in the article may be outdated. Please look at the time stamp on the story to see when it was last updated.
AURORA, Colo. — A baseball coach at Texas Wesleyan University in Fort Worth is under fire after writing an email stating he will not recruit student-athletes from Colorado because players from the state have had trouble passing drug tests.
The coach, Mike Jeffcoat, sent that email to Cherokee Trail High School senior Gavin Bell on Feb. 20.
Bell has been busy working through the college recruitment process and said he already has a couple offers.
"Unfortunately, we are not recruiting players from the state of Colorado," Jeffcoat wrote in the email to Bell. "In the past, players have had trouble passing our drug test. We have made a decision not to take a chance on Student-athletes from your state."
The coach finished the email by writing, "You can thank your liberal politicians. Best of Luck wherever you decide to play."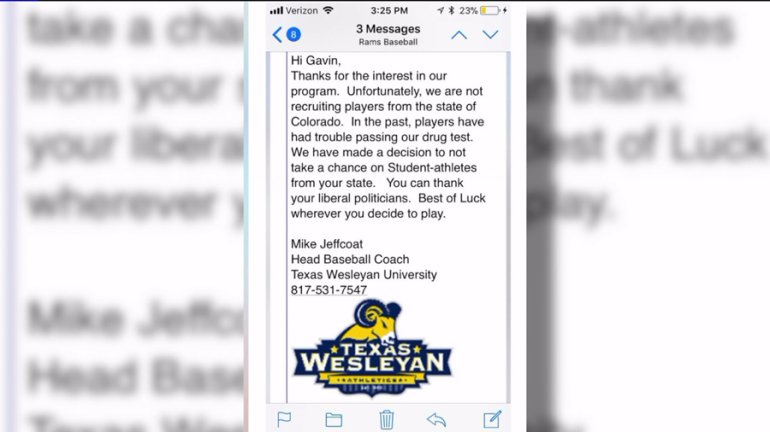 Jeffcoat did not return phone calls.
Bell said he doesn't want the coach to lose his job.
"I'm not trying to get anybody in trouble here," Bell said. "My intention wasn't trying to get this guy fired. My intention was just to try to play baseball."
The 18-year-old outfielder said he wants to focus on his upcoming college career.
"This wasn't meant to go viral for me or anything like," he said. "I just sent it to a high school teacher of mine and it just went public like that."
The university released a statement about the incident.
"We are aware of the email sent by our baseball coach, and the comments he made are in no way a reflection of Texas Wesleyan University, its values or its recruiting practices.

This is a personnel matter and it is currently under investigation. It is our University policy to not discuss personnel matters, but we want to reiterate that this email does not reflect our values and we do not condone discrimination. This includes discrimination on the basis of race, color, origin, ethnicity, gender, age, religion, disability or sexuality; or the political legislation of one's home state. We are committed to providing an inclusive campus for all of our students, faculty, staff, visitors, potential students and their families.

Texas Wesleyan has a long tradition of excellence in athletics and we are committed to recruiting student-athletes who will excel at our university. Like the NAIA's core values, we are focused on building and recruiting champions of character."
There is currently a student from Colorado on the Texas Wesleyan University baseball roster, freshman Logan Bistrup of Pomona High School in Arvada.