This is an archived article and the information in the article may be outdated. Please look at the time stamp on the story to see when it was last updated.
CENTENNIAL, Colo. — The family of an Englewood chef gunned down in the street by two teenagers in 2016 told a judge on Friday that Nick Lewis' death was tragic, senseless and a heinous crime, the 18th Judicial District Attorney's Office said.
The family had traveled from Florida to urge Arapahoe District Court Judge Andrew Baum to impose the maximum sentence on the man who pulled the trigger, Raheem Benson.
Lewis' former wife spoke on behalf of their son, who had just turned 8 when his father was killed.
Lewis' "death was unjust and senseless," his ex-wife told the court.
"These young men have permanently altered the course of (my son's) life. Nothing can be done to right what has been done," she said.
Baum listened and then sentenced Benson, now 18, to life in prison with the possibility of parole after 40 years.
"I don't think any of your deficiencies shields you or excuses the choice you made that night," Baum said, referencing mitigating factors the defense had raised in a previous hearing.
"At some point you knew it was wrong to go out there with a gun. … No one else made that choice.
"Your life is now the Department of Corrections."
Benson boasted of what he had done on Facebook, posing with the mask he wore and the gun he used, prosecutors said.
Lewis, who was 33, was a chef at Blackbird Public House in Denver. He was walking home from a convenience store Oct. 1, 2016, when he was targeted at random.
Englewood police officers responding to reports of shots fired found Lewis lying on his back in the sidewalk in the 3000 block of South Acoma Street. It appeared he had been shot in the chest.
Lewis was pronounced dead at Swedish Medical Center; he had been shot three times and died from a wound to his heart.
Investigators found shell casings at the scene. Witnesses described a vehicle that had left the area, and various security cameras in the area had captured video.
The vehicle was traced to one stolen out of Denver on Sept. 28, 2016; Westminster police reported it was recovered during investigation of an Oct. 3, 2016, shooting. Teenagers Benson and Louis Lara-Macias were arrested.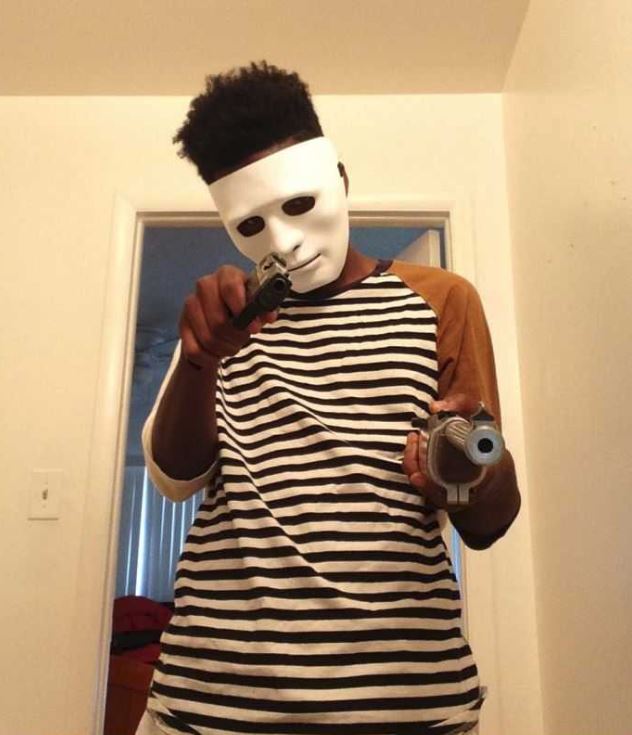 Englewood detectives were able to tie both of them to Lewis' death and they were charged with murder.
Lewis' youngest sibling was 11 years old when he was murdered.
She read a victim impact statement in court during Benson's sentencing.
"There is no excuse for the defendant to use age as a cop-out for the horrific act," the teenager told the judge. "He is a predator and Nick was his prey."
Lara-Macias pleaded guilty to second-degree murder and was sentenced to 21 years in the Department of Corrections, which will be suspended upon successful completion of seven years in the Department of Corrections' youth offender system, according to prosecutors.
Benson was convicted March 22 of first-degree felony murder, second-degree murder and attempted aggravated robbery in Lewis' death.
Lewis' mother also read a statement in court, saying "This murder was a concerted choice made by two evil men on a crime spree. Nick was shot three times execution style – and all for what?"
Benson "needs to deal with the consequences of what he's done and be held accountable."