This is an archived article and the information in the article may be outdated. Please look at the time stamp on the story to see when it was last updated.
GOLDEN, Colo. — A man wanted in connection in the fatal carjacking of a University of Utah student has been caught, the Salt Lake City Police Department said Tuesday.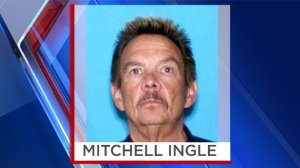 The Golden Police Department also wants to talk to Austin Boutain in connection to the death of a 63-year-old man whose body was found in a trailer.
The man who died was been identified as Mitchell Bradford Ingle.
Police in Utah did not say where Boutain was found.
Golden police said Boutain, 24, and his 23-year-old wife Kathleen E. Boutain, who is also a person of interest, had been driving a green 2000 Ford F-350 pickup truck with Colorado license plates 460-DZX that was registered to Ingle.
Police said they were asked by Utah police to conduct a welfare check at an RV trailer parked in the Clear Creek RV Park at 1401 10th St. at 12:30 a.m. Tuesday.
Officers found Ingle dead inside the trailer. Golden police said he had been dead for a few days. Ingle was staying at the RV park on a short-term lease.
The death is being treated as suspicious and investigated as a homicide, police said.
The Boutains are people of interest in the Golden death. Investigators flew to Utah later Tuesday to try to make the connection.
Police said the Boutains had some type of friendly relationship with the Golden victim, but they don't know the extent of it.
"We don't believe they were in Colorado for a long time, but we don't know how they met, how they got back to the trailer or who might have been in the trailer or connected," Capt. Joe Harvey said.
"We want to make sure we are doing due diligence on our end to not make accusations until we can get investigators on the ground in Utah and put some investigative work together."
University of Utah police chief Dale Brophy said authorities believe the couple have been in Utah for several days and were camping in the foothills above the University of Utah.
Police say they believe Austin Boutain fatally shot 23-year-old student ChenWei Guo on Monday night.
Salt Lake County jail records show Kathleen E. Boutain was booked into the Salt Lake County Jail on Tuesday on unrelated drug and theft charges.