This is an archived article and the information in the article may be outdated. Please look at the time stamp on the story to see when it was last updated.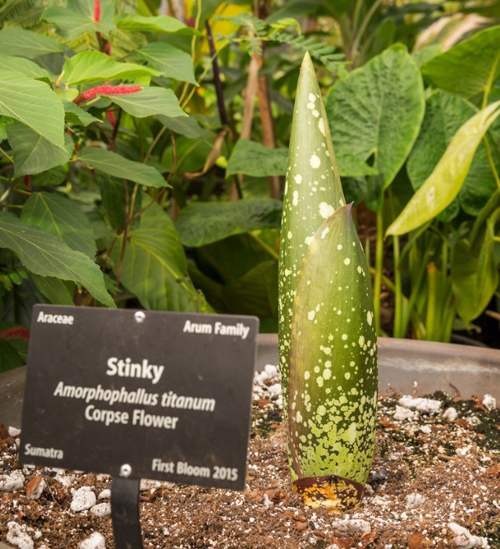 DENVER — A corpse flower at the Denver Botanic Gardens might be ready to bloom for the second time in three years.
The Gardens said Tuesday that horticulturists are predicting Stinky could bloom in early to mid-September.
The flower first bloomed in August 2015, the first time a corpse flower bloomed at the Gardens. A different plant, Little Stinker, bloomed in 2016.
The flower is native to rainforests of western Sumatra in Indonesia. When they bloom, they let out a foul odor that resembles decaying flesh, thus their names.
The first bloom usually happens when the flowers are 7 to 15 years old and subsequent blooms follow about every three to eight years, so it's possible a bloom might not happen in the next month.
The plant is measured daily and is at just more than 2 feet tall. It will grow to be more than 5 feet tall. Because the corm is larger than in 2015, horticulturists believe the plant will be taller and the bloom larger than in 2015.
The Gardens said it will keep regular hours of 9 a.m. to 8 p.m. during the bloom. On the bloom day, Gardens members can enter at 8 a.m.