This is an archived article and the information in the article may be outdated. Please look at the time stamp on the story to see when it was last updated.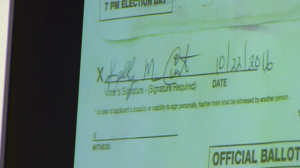 GREELEY, Colo. — Steve Curtis, the former chairman of the Colorado Republican Party, admits voting for his ex-wife by signing her 2016 election ballot and mailing it in.
But on the stand Wednesday afternoon, the 57-year-old insisted it wasn't an intentional criminal act but instead a medical episode caused by diabetes.
"When it's really erratic, it's just ridiculous how stupid I sound and now forgetful I am. I think I kind of appear like a moron really," Curtis said on the stand.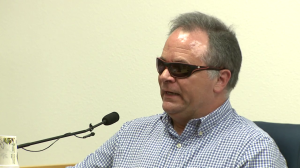 Curtis served as chairman of the Colorado Republican party form 1997 to 1999. He's been charged with felony forgery and misdemeanor election fraud.
Curtis testified that after investigators fingerprinted him, took his DNA and made him provide a handwriting sample he, "Felt like I was was being framed."
The 57-year-old said he didn't remember signing his ex-wife's ballot or mailing it in until after being questioned by detectives.
"I started to have this picture in my mind of (Kelly Curtis' ballot) being in the trash and at first I didn't know if it was a real memory or just something because I kept being told I had signed it so I didn't know if my mind was playing a trick on me or if I had actually seen it," he said.
"But I think it was in the those first few weeks when that evidence started to come in," that Curtis' memory told him what he did.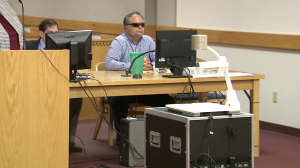 His testimony often turned curious as Weld County Deputy District Attorney Tate Costin challenged Curtis' diabetic defense.
"You were in some sort of blackout state Oct. 19, Oct. 22 and even a few days later Oct. 25?" asked Costin.
"I don't know," responded Curtis.
"You have no memory of that time period?" Costin said.
"I really don't," replied Curtis.
At the time of his arrest, Curtis was a conservative talk radio host for KLZ-560 AM.
Just weeks before the 2016 election, he told listeners, "Virtually every case of voter fraud that I can remember in my lifetime was committed by Democrats or do I not have the facts?"
Curtis parted ways with the radio station months ago, but his former radio producer Steven Ebling testified that Curtis admitted in March to what he had done without mentioning diabetes as an excuse.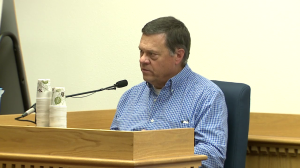 "A mail-in ballot came to (Steve Curtis') house. I opened it, I filled it out I signed it, I mailed it in," Ebling testified as to what Curtis told him.
"When (Curtis) explained that to you did he mention his diabetes at all?" Costin asked.
"I don't recall that. I mean he was more into the facts, the hard facts, here's why I was in court yesterday," Ebling said.
Curtis' two children each testified about their father's diabetic condition.
"Dazed, incoherent, not responsive to questions when asked," Curtis' son Jacob Curtis testified.
Jacob's sister Caroline Lily Curtis testified her father's behavior would turn odd when his blood sugar got low.
"Sometimes he didn't even realize how bad it was getting and so he was unable to ask for help," she said.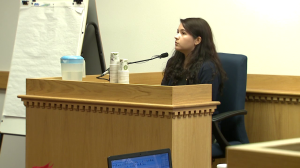 Steve Curtis faces up to three years in prison if convicted of the forgery charge and 18 months for the election fraud count.
Closing arguments will take place Thursday morning with jury deliberations set to follow.