This is an archived article and the information in the article may be outdated. Please look at the time stamp on the story to see when it was last updated.
GREELEY, Colo. — Police are investigating death threats made to a city council woman over her support of a controversial oil and gas measure.
Supporters of Proposition 112 planned to hold a rally in Lincoln Park Square in Greeley on Friday, but because of the recent threats' organizers say it has become a safety risk they are not willing to take.
"I call it hate mail," Educational activist, Don Perl, said.
Perl is rattled. He just received a disturbing letter in the mail over his support of Prop 112.
"It scared me. According to police it did not rise to the level of a threat but it scared me because there are young people here. I have my grandson who lives here, and his friend lives here. Young people are here and I don't want them to have to worry this sort of thing," Perl said.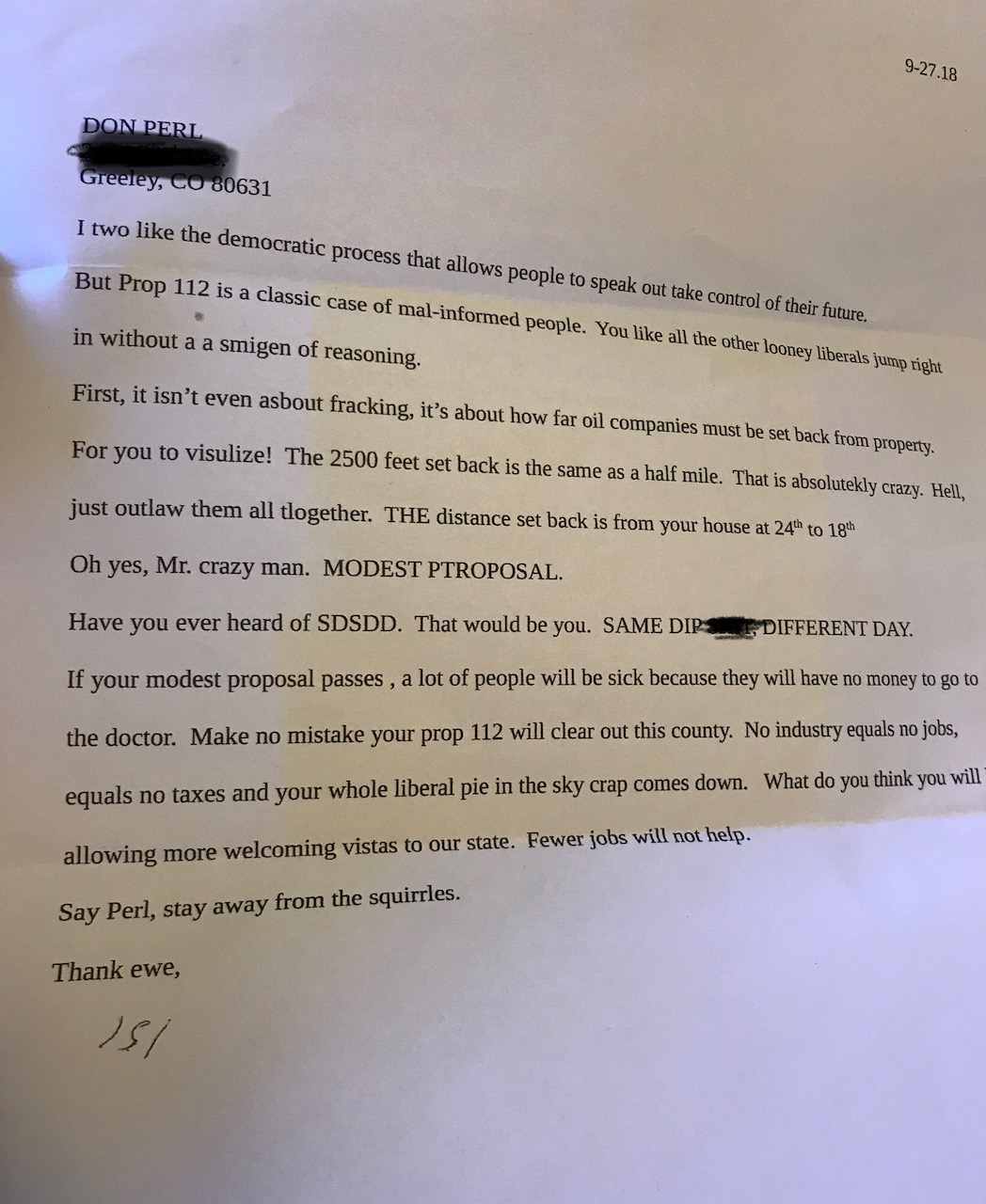 If passed in the November election, Prop 112 would increase the distance between oil and gas wells and schools and homes.  Currently wells must be 500 feet from homes and 1000 feet from schools. The proposition would increase that distance to 2500 feet or half mile.
Supporters say the health and safety of our state is at risk.
"We're poisoning our air and we're poisoning our water. Who is most vulnerable is the children," Perl said.
While opponents say it will devastate the economy and shutdown the oil and gas industry.
"112 is probably the most reckless, extreme piece of legislation that I've seen," Greeley Mayor John Gates said at a recent anti-112 rally.
Greeley city councilwoman, Stacy Suniga reported a threat on Oct. 1 because of her support of the ballot measure. Her partner says she received a death threat over the phone.
The Weld County Mayor Group, vocal against Prop 112, said "any threat related to an election issue is totally inappropriate and possibly criminal in nature. Those with differing opinions on Proposition 112 or other proposed legislation should settle their differences via their ballot. I would encourage anyone who is threatened in any way to immediately contact the applicable law enforcement agency."
Meanwhile Perl reads the last line of the letter and ponders the meaning. It says "stay away from the squirrels."
"Maybe it's just sort of a veiled threat. Keep your eyes open. I don't know. But it certainly worked as a veiled threat for me," Perl said.
Direct threat or a harmless warning about wildlife – either way Perl says it won't stop him from casting his vote in November.
"The letter was ugly and it comes from a place of fear and I think we all need to face fear. When we do we come out better people," Perl said.
Greeley police said at this point they have no suspect information but they are looking into this. The organizer does not plan to reschedule the rally.