AURORA, Colo. -- In an effort to be transparent, the Aurora Police Department has released a portion of body camera footage from an officer-involved shooting on Oct. 20.
The shooting happened about 1:45 a.m. in the 9100 block of East 14th Avenue.
But the department released only 40 seconds of video that cuts off immediately after an officer fires five shots at an armed suspect.
Moments before, an officer is seen approaching an apartment complex as women run past him yelling, "A guy has a big (expletive) gun in his hand."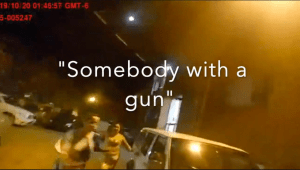 The officer can be heard telling the women, "Get back, get back, get back," and a moment later, "Drop the gun, drop the gun," to a man in the distance, whom the officer saw holding a weapon.
Police shared a still-frame of the video showing a rifle, recovered from the apartment the suspect fled into after he was shot.
Police have said the officer was warned the Denver Police Department had just detected gunfire in the area from its ShotSpotter technology.
The suspect's name and charges weren't included in the announcement, which included a YouTube video that shows body cam footage and Aurora police Deputy Chief Paul O'Keefe narrating what led the officer to use lethal force.
"The armed male did not comply with the officer's orders and turns towards the officer," O'Keefe said. "The officer made the decision to discharge his weapon, striking the suspect."
Not shared is how many shots hit the suspect and where.
A police spokesman said by email that more details would be released once the investigation is complete and 18th Judicial District Attorney George Brauchler determines if the force used was appropriate.
"There's some transparency, which is good to see but not total transparency," said Mary Dodge, a criminology professor at the University of Colorado Denver.
But Dodge said police choosing to release a tiny portion of the video while taking no questions at a possible news conference is a disturbing trend.
"This actually is harmful for them because they appear to be very secretive about the details and so transparency, yes, but not enough," she said.
In a series of follow-up emails, additional details were obtained from police, though a spokesman declined to answer some questions.
Oscar Lucio-Vazquez, 38, was the man who was shot by police.
He has been charged with felony menacing with a real/simulated weapon but hasn't been booked into jail because he's still recovering in a hospital.
Police also confirmed that before officers arrived, a man suffered serious injuries and two women had minor injuries.
Police won't say what connection those victims have to the gunman or if it was Lucio-Vazquez who allegedly caused their injuries.
Police will only say the injuries were not from gunshots.
Prosecutors have sealed the arrest affidavit so it's not clear what the reported disturbance was that led police to the area before officers knew about the reported gunfire.
The officer who fired his weapon has been placed on paid administrative leave, which is standard policy for any officer-involved shooting.