This is an archived article and the information in the article may be outdated. Please look at the time stamp on the story to see when it was last updated.
DENVER — Multiple licensed marijuana dispensaries in the Denver metro area were raided Thursday and now face legal consequences.
The Denver Police Department said the violations are criminal in nature, but would not go into specifics. Officers executed search and arrest warrants.
While police would not confirm which businesses are part of the raid, multiple Sweet Leaf locations reportedly were closed with notices saying licences have been suspended.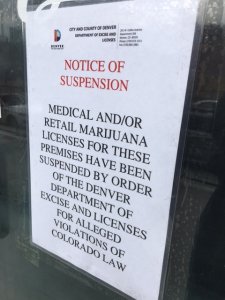 "Medical and/or retail marijuana licenses for these premises have been suspended by order of the Denver Department of Excise and Licenses for alleged violations of Colorado law," read a notice from the city of Denver posted on the Sweet Leaf location at 26th and Walnut streets.
Customers were turned away at the Evans Avenue location and signs were posted on the doors letting customers know the retail marijuana licenses have been suspended by the city for violating Colorado law.
A spokesman for the city department of excise and licenses said 26 licenses, including retail and medical marijuana, cultivation facilities and one medical marijuana-infused product facility have been suspended.
Charges have been filed, arrests have been made and an investigation is ongoing.
A store employee said they were interviewed and photographed by police but were unaware of any wrongdoing by the business.