This is an archived article and the information in the article may be outdated. Please look at the time stamp on the story to see when it was last updated.
GLENWOOD CANYON, Colo. (KDVR) — If you're planning a trip to the mountains this weekend, there's a high chance that you will be faced with road closures due to flash flooding and mudslides.
I-70 has been closed off and on through Glenwood Canyon for more than a month.
At 9 a.m. Friday, the Colorado Department of Transportation said I-70 would remain closed through Glenwood Canyon for an extended time due to several mudslides that happened Thursday.
"Travelers should plan on a lengthy closure due to the significant slides and rain in the forecast. Closure points continue to be at Exits 87 (West Rifle), 109 (Canyon Creek), 116 (Glenwood Springs) and 133 (Dotsero)," shared CDOT.
Photos of mudslides from CDOT:
Mudslide Glenwood Canyon 7/30 Credit: CDOT

Mudslide Glenwood Canyon 7/30 Credit: CDOT

Mudslide Glenwood Canyon 7/30 Credit: CDOT

Mudslide Glenwood Canyon 7/30 Credit: CDOT

Mudslide Glenwood Canyon 7/30 Credit: CDOT

Mudslide Glenwood Canyon 7/30 Credit: CDOT

Mudslide Glenwood Canyon 7/30 Credit: CDOT

Mudslide Glenwood Canyon 7/30 Credit: CDOT

Mudslide Glenwood Canyon 7/30 Credit: CDOT

Mudslide Glenwood Canyon 7/30 Credit: CDOT

Mudslide Glenwood Canyon 7/30 Credit: CDOT

Drivers are asked to use the northern alternate route: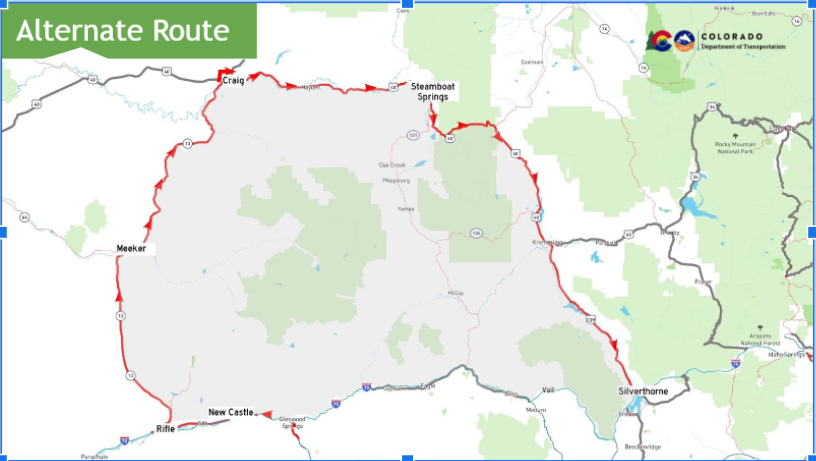 Check out the aerial view of the mudslides from SkyFOX in the player below: