This is an archived article and the information in the article may be outdated. Please look at the time stamp on the story to see when it was last updated.
LAKEWOOD, Colo. — A man said he was carjacked while his service dog was in the back seat of his SUV and he is desperate to get her back.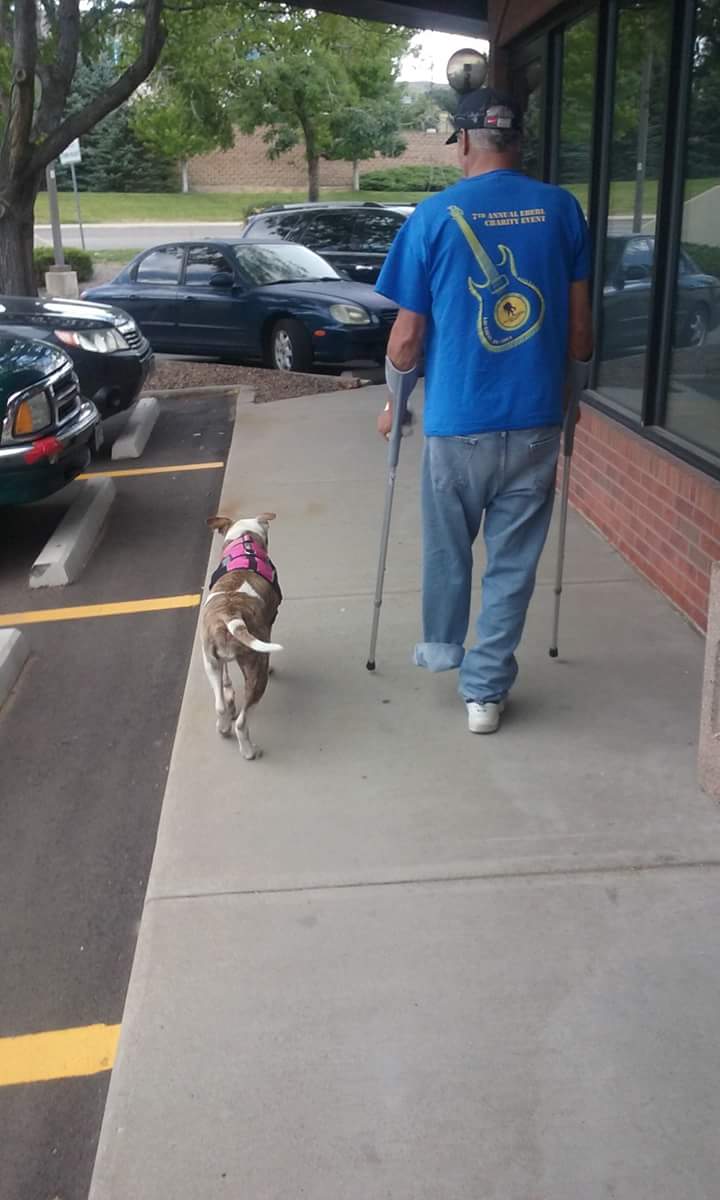 The crime happened in the parking lot of a Taco Bell off Simms Street and West Colfax Avenue in Lakewood.
Mia, a 10-year-old pit bull, is a trained service dog. Darren Schook said he brings her to local hospitals to help patients cope.
"Every day waking up, I'd start singing, I love you Mia, my mama Mia. You're so sweet to me," Schook said.
Schook said Mia is a faithful, four-legged best friend.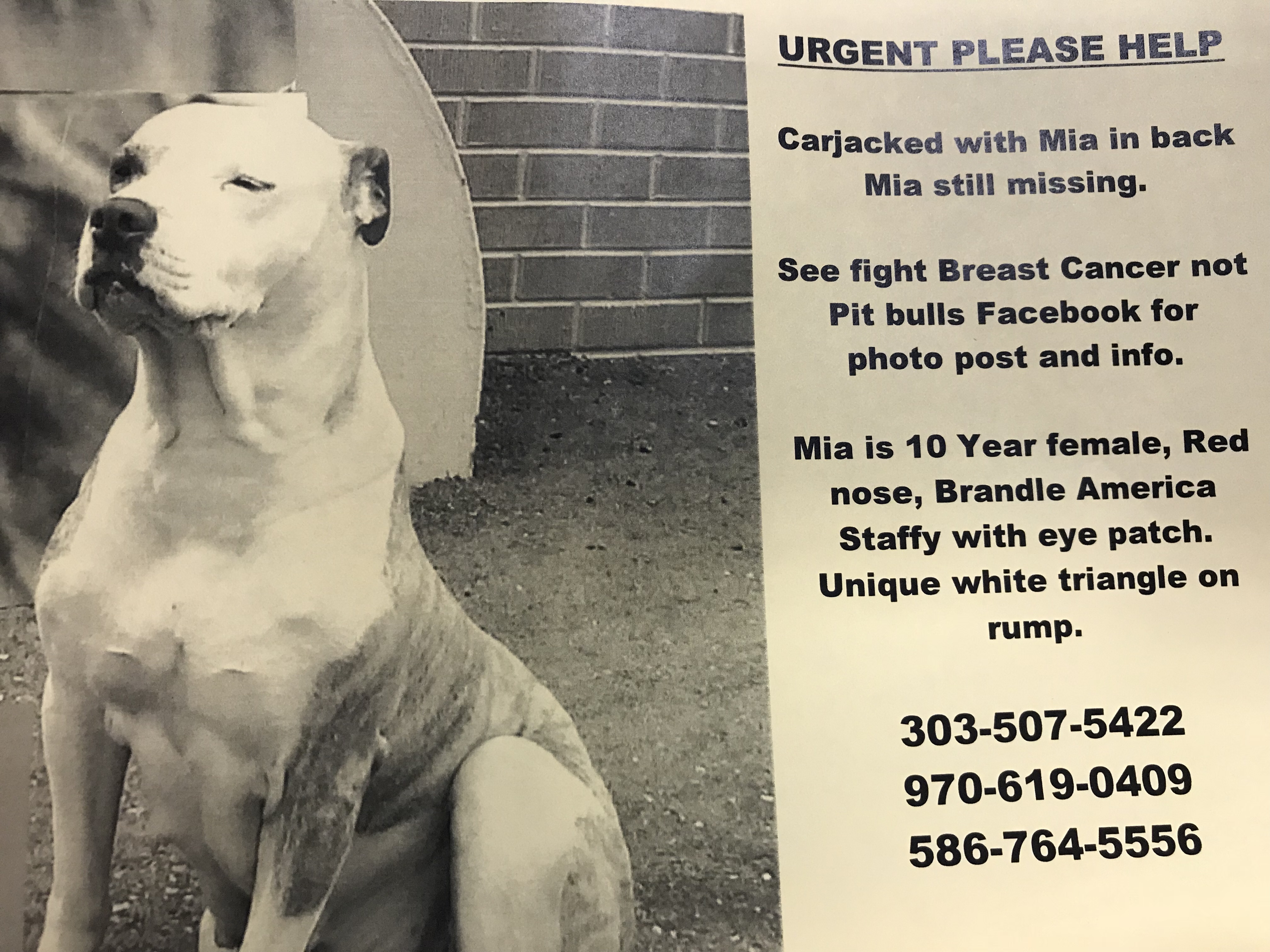 "She'll lay there in the morning and she'll start doing this," Schook said. "My emotional attachment to her is like a kid."
Mia is more than just Schook's companion. A few years ago, he started the group, "Fight Breast Cancer not Pitbulls."
Schook believes no one should have to choose between their health care and their dog.
When someone is sick or in the hospital, his group will take care of their dog for up to 90 days.
Schook also takes Mia out to provide emotional support for those battling cancer and other setbacks.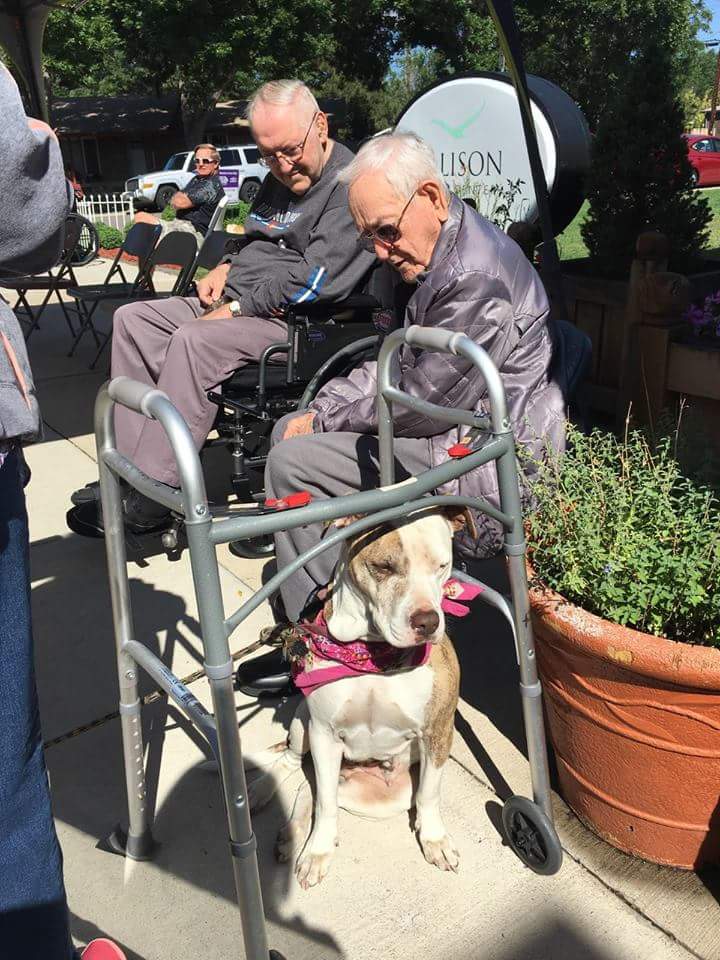 "She's so comforting and nurturing. She's got thousands of people that I believed she's helped," Schook said.
But on March 4 at 6 p.m., Schook's world came crashing down. In seconds, his beloved Mia was gone.
"It's the most miserable, hurting … it's gut wrenching," Schook said.
Schook called the Lakewood Police Department. Later, Colorado State Patrol troopers found Schook's stolen Chevrolet Blazer on the side of Interstate 70 near Strasburg.
But Mia was nowhere to be found.
"It was just a sinking feeling," Schook said.
Mia is the only close family Schook has. He said he's praying that someone will help bring her home.
"Please return the greatest joy and love of my life," Schook said.
Schook said Mia is microchipped.
The Colorado State Patrol said an arrest made for aggravated motor vehicle theft in connection to the case, but there has been no information about Mia.