This is an archived article and the information in the article may be outdated. Please look at the time stamp on the story to see when it was last updated.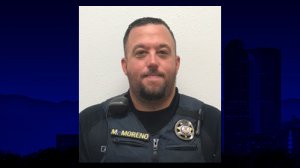 LAS ANIMAS COUNTY, Colo. — A  Las Animas County deputy along with a civilian and a child were killed in a three-car crash on Wednesday night, the Colorado State Patrol said. Two other deputies were injured.
The crash happened just after 8 p.m. on Highway 12 as deputies were responding to a possible domestic incident, according to state troopers.
Two of the patrol cars collided with another vehicle that was headed in the opposite direction. The driver of that car died and the child inside the vehicle died at the hospital, according to a press release from CSP.
Sgt. Matthew Moreno, 37, of Trinidad was declared dead upon his arrival at Mt. San Rafael Hospital in Trinidad. He was a member of the Las Animas County Sheriff's Office for five years.
Taelor Roybal, 23, of Trinidad was driving a 2003 Chevy sedan. She died at the scene of the crash. Her passenger, 1-year-old Ezekiel Valdez of Trinidad died of his injuries at a hospital.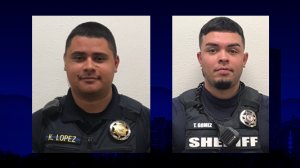 Deputy Kenny Lopez, 22, was in the same vehicle as Sgt. Moreno. Lopez sustained moderate injuries and was at Mt. San Rafael Hospital. Deputy Trent Gomez, 25, was driving the third vehicle involved and he had minor injuries.
The cause of the crash remains under investigation.