This is an archived article and the information in the article may be outdated. Please look at the time stamp on the story to see when it was last updated.
DENVER — A list of Jesuits found to have credible allegations of sexual abuse made against them includes 13 priests who worked in Colorado, two of whom also worked in Wyoming.
Eight of the priests included on the list released by the Catholic order's U.S. Central and Southern Province (UCS) Friday worked at Regis Jesuit High School, once located in Denver proper but is now in Aurora. Two also served at St. Stephen's Mission on Wyoming's Wind River Reservation.
In a letter to the Regis Jesuit community, President David Card said two Jesuits on the list, Mark A. Clark, SJ and Paul C. Pilgram, SJ, had allegations related to Regis Jesuit students.
"As president and an alumnus of Regis Jesuit High School, I want to express my sincere compassion for the victims for the pain caused by Jesuits serving at Regis Jesuit in the past, and to other survivors of abuse and members of our community who are impacted by this news," card said in the letter, which was sent via email Friday.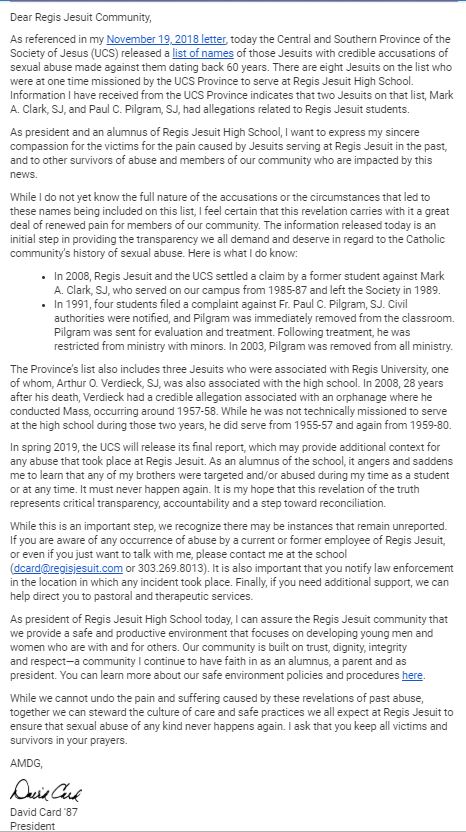 Clark served at Regis Jesuit from 1985-87 and left the Jesuits in 1989. In 2008, Regis Jesuit and UCS settled a claim filed against him by a former student.
In 1991, four students filed a complaint against Pilgram.
"Civil authorities were notified, and Pilgram was immediately removed from the classroom. Pilgram was sent for evaluation and treatment. Following treatment, he was restricted from ministry with minors. In 2003, Pilgram was removed from all ministry," Card said.
Seven of the priests who worked in Colorado have died. The others have either left the order or been removed from ministry.