This is an archived article and the information in the article may be outdated. Please look at the time stamp on the story to see when it was last updated.
GOLDEN, Colo. — Almost everywhere you go in Colorado, there are burn bans in effect.
This includes White Ranch Park in Golden, which is just a 40 minute drive from downtown Denver.
"You have this beautiful grassy field that transitions into ponderosa pines," said Mary Ann Bonnell, a ranger and visitor service manager with Jefferson County Open Space.
But this pristine park, is starting to dry out.
"Two weeks ago these hills looked emerald," Ranger Bonnell told FOX31. Now they're starting to look gray and brown and that tells you, 'Oh my goodness, things are starting to dry out.'"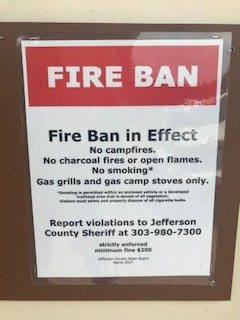 That's why Jefferson County is now in a Stage 2 Burn Ban. That means no smoking, charcoal grilling or campfires in Open Space.
Monday, after a weekend of camping, Ranger Bonnell inspected the campsites at the Sawmill Campground and found people were following the rules.
But a couple of weeks ago, at a different park, they weren't.
That's when Ranger Bonnell found an unattended and smoking charcoal grill.
"Oh goodness sakes…it's one of the most disappointing things to see," she said. "I don't think it's malicious. I think it's just ignorance."
That ignorance can be devastating.
Two years ago, an unattended campfire sparked the Cold Springs fire in Nederland. It burned more than 500 acres and destroyed eight homes.
At the time, the punishment for leaving a campfire in a forest or grassland unattended was a $50 fine.
It's now a misdemeanor and with a punishment of a fine up to $750 and six months in jail.