This is an archived article and the information in the article may be outdated. Please look at the time stamp on the story to see when it was last updated.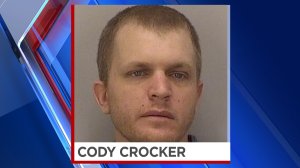 CASTLE ROCK, Colo. — An inmate was captured after entering the ceiling of the Douglas County Detention Center, leading to a lockdown on Tuesday morning.
A perimeter was set up by the Douglas County Sheriff's Office and the Castle Rock Police Department after the inmate, 34-year-old Cody Crocker, entered the ceiling.
Less than an hour later, the sheriff's office said Crocker was found unharmed and removed.
He will be examined by medical staff and be placed back into a cell.
Crocker was being held at the detention center on charges of attempt to influence a public servant; forgery, simulation impersonation and related offenses; shoplifting; and possession of drug paraphernalia.
He was booked into the detention center by the Lone Tree Police Department on Feb. 5 and was being held on a $100 bond.
It's not known how Crocker was able to get into the ceiling.