This is an archived article and the information in the article may be outdated. Please look at the time stamp on the story to see when it was last updated.
COMMERCE CITY, Colo. — A Commerce City middle school teacher has been placed on administrative leave after he allegedly typed out an inappropriate message to students this week.
"Silent reading … I want to kill children but I am a loving Christian man who never would hurt a flee (sic) so please sit down and read," the eighth-grade teacher, identified by parents Kris Burghart, at Otho E. Stuart Middle School, allegedly wrote.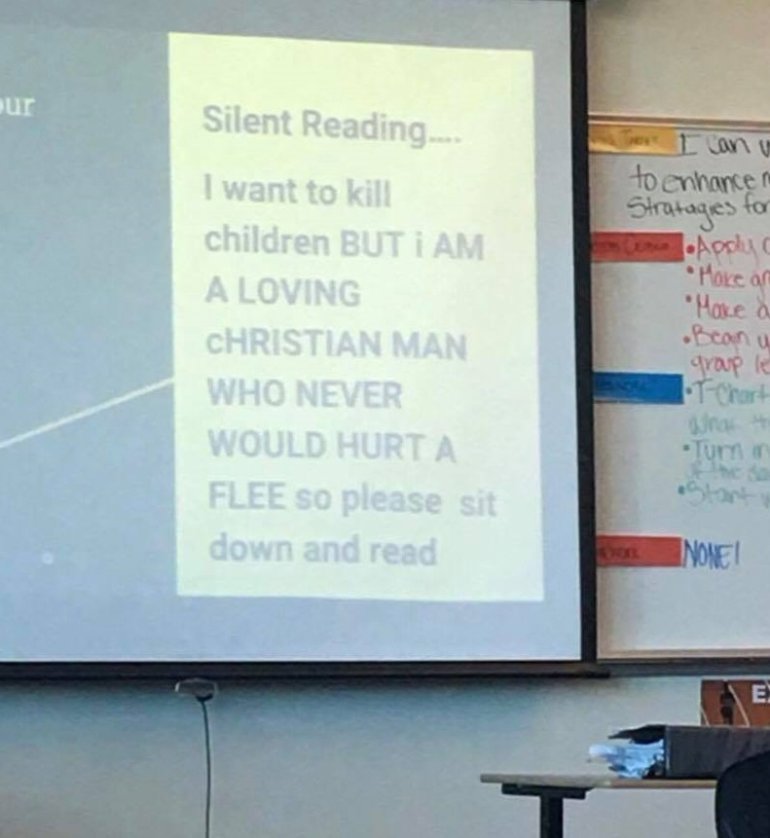 Principal Fabricio Velez told parents in a letter that students were never in any danger. The teacher began the administrative leave on Tuesday, according to a School District 27J spokesman.
"I wanted to make you aware of an incident that took place yesterday during Connect 21 (last period of the day) in Mr. Burghart's class. It was reported to me by a parent last night that Mr. Burghart had a message projected on the board that frighten some of our Raptors.

We started this investigation last night and and have continued our investigation throughout the day today. Mr. Burghart was out of the building today and will be out of the building tomorrow while we complete our investigation."

Please know that we take any allegations concerning the safety and security of our Raptors very seriously. I can assure you that your student was not in danger at any time," Velez said. "I will communicate back to you once my investigation is completed."
"We all have bad days, but as a person in a position of trust with our students, it doesn't matter how bad your day is," a parent said. "You don't speak that way. You don't write that way."
While some said the message should be taken as more of a joke, the school district said it is taking the situation seriously.
"Our human resources department is aware of the situation and the teacher in question has been placed on administrative leave, pending an investigation," School District 27J spokesman Tracy Rudnick said in a statement. "The safety and security of our students is our No. 1 priority."
More than a dozen parents voiced support for Burghart.
"[He is] the most supportive teacher for any of the kids in this school," a parent said.
Other parents called the teacher an asset to the community, to the school and fellow teachers.
"He's the greatest teacher at this school in my opinion," another parent said.
Attempts to reach Burghart at his home on Tuesday were unsuccessful. Some community members are expressing doubt over the accusations that Burghart wrote the messages.