This is an archived article and the information in the article may be outdated. Please look at the time stamp on the story to see when it was last updated.
DURANGO, Colo. — Hundreds of residents forced to leave their homes by the 416 Fire in southwest Colorado wildfire have been allowed to return.
La Plata County officials said the occupants of 761 homes and 94 businesses can begin returning at 12 p.m. Friday.
The mandatory evacuation orders have been lifted for both sides of U.S. Highway 550 between mile marker 46.5 and the San Juan County line to the north. The area includes the Two Dogs, Twilight Peaks and Lake Purgatory subdivisions. Silver Pick Lodge, Purgatory and Durango Mountain Resort have also had evacuation orders lifted. At one point, at least 1,900 residences had been evacuated.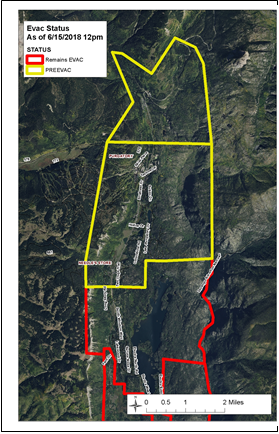 However, all of the above areas will remain under pre-evacuation orders and residents will be subject to the limited opening hours of Highway 550, which is closed from 8 p.m. until 8 a.m.
Law enforcement escorts will continue on the highway during the re-entry period, which will go through 8 p.m. Friday.
Megan Graham of the La Plata County Sheriff's Office said those allowed to return have been told to be ready to leave again due to changing conditions of the fire.
The fire began June 1 in an area of extreme drought affecting the Four Corners.
The fire has burned 32,959 acres and is currently 18 percent contained. It is located about 10 miles north of Durango.
Officials say expected weekend rains could provoke flash flooding in burn scars.