This is an archived article and the information in the article may be outdated. Please look at the time stamp on the story to see when it was last updated.
DENVER — The Mega Millions prize grew even larger on Tuesday as lottery officials raised the estimated jackpot for Tuesday night's drawing to $667 million, making it the third-largest grand prize in U.S. history.
The increase from $654 million reflects a surge in ticket sales.
Maybe you have your own lucky lottery store, but some stores are statistically luckier than others.
Here are the luckiest stores in Colorado to buy Mega Millions tickets, according to Colorado Lottery officials.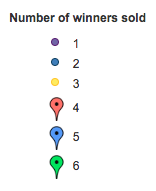 Map of stores selling winning tickets
This map shows every store that has sold at least one winning Mega Millions ticket since the game was first sold in Colorado.
These are numbers from Colorado Lottery as of October 16, 2018.
[protected-iframe id="e6b9aaa08691e6f9a5f5d11c18cab75c-29290497-96747295″ info="https://fusiontables.google.com/embedviz?q=select+col5+from+1ayze9TC3HUM69BwFcM4CHKXaGWagXzAQ19fWIJVk&viz=MAP&h=false&lat=39.01918369029137&lng=-105.13757705273571&t=1&z=7&l=col5&y=2&tmplt=2&hml=GEOCODABLE" width="100%" height="500″ scrolling="no"]
Stores that have sold at least 2 winning tickets
| | | | | |
| --- | --- | --- | --- | --- |
| Store | Address | City | Number of winners sold | Total amount won |
| 7-ELEVEN #29108A | 4701 PEORIA ST | DENVER | 6 | $35,000 |
| 7-ELEVEN #34179A | 4709 TOWER RD | DENVER | 6 | $4,010,000 |
| BORDERLINE #1 | 68947 US HWY 85 | CARR | 6 | $10,500 |
| KING SOOPERS #05 | 1355 KRAMERIA | DENVER | 5 | $41,500 |
| KING SOOPERS #121 | 8055 SHERIDAN BLVD | ARVADA | 5 | $10,000 |
| KING SOOPERS #83 | 18605 GREEN VALLEY RANCH BLVD | DENVER | 5 | $28,500 |
| KING SOOPERS #84 | 6412 S PARKER RD | AURORA | 5 | $53,500 |
| 7-ELEVEN #13195 | 4040 E 8TH AVE | DENVER | 4 | $1,004,200 |
| CITY MARKET #432 | 200 ROOD | GRAND JUNCTION | 4 | $43,000 |
| KING SOOPERS #133 | 3250 CENTENNIAL BLVD | COLORADO SPRINGS | 4 | $14,500 |
| KING SOOPERS #34 | 1575 W 84TH AVE | FEDERAL HEIGHTS | 4 | $7,000 |
| KING SOOPERS #44 | 253 E 29TH ST | LOVELAND | 4 | $4,005,500 |
| KING SOOPERS #72 | 2750 S COLORADO BLVD | DENVER | 4 | $16,500 |
| KING SOOPERS #86 | 12167 SHERIDAN BLVD | BROOMFIELD | 4 | $7,500 |
| SAFEWAY STORES INC #1615 | 3325 28TH ST | BOULDER | 4 | $15,000 |
| SAFEWAY STORES INC #1975 | 6925 MESA RIDGE PKWY | FOUNTAIN | 4 | $15,000 |
| 7-ELEVEN #16593B | 2500 W 38TH AVE | DENVER | 3 | $41,000 |
| 7-ELEVEN #26692A | 5805 PALMER PARK BLVD | COLORADO SPRINGS | 3 | $16,000 |
| 7-ELEVEN #29024A | 880 S BUCKLEY RD | AURORA | 3 | $13,500 |
| 7-ELEVEN #32809B | 10128 WADSWORTH PKWY | BROOMFIELD | 3 | $4,500 |
| 7-ELEVEN #33042B | 8750 S YOSEMITE ST | LONETREE | 3 | $4,500 |
| 7-ELEVEN #34058A | 2434 BRIARGATE PKWY | COLORADO SPRINGS | 3 | $44,500 |
| 7-ELEVEN #39214A BCP | 6802 S YOSEMITE ST | CENTENNIAL | 3 | $254,000 |
| CIRCLE K #2741116 | 3540 W 92ND AVENUE | WESTMINSTER | 3 | $5,000 |
| CITY MARKET #425 | 569 32 RD | GRAND JUNCTION | 3 | $5,500 |
| CITY MARKET #443 | 1320 RAILROAD AVE | RIFLE | 3 | $6,000 |
| GREENMOUNTAIN MOBIL | 12410 W ALAMEDA PKWY | LAKEWOOD | 3 | $13,500 |
| KING SOOPERS #03 | 6350 SHERIDAN BLVD | ARVADA | 3 | $5,000 |
| KING SOOPERS #102 | 1611 PACE ST | LONGMONT | 3 | $20,000 |
| KING SOOPERS #107 | 25701 E SMOKY HILL RD | AURORA | 3 | $5,000 |
| KING SOOPERS #110 | 8673 S QUEBEC ST | LITTLETON | 3 | $8,000 |
| KING SOOPERS #119 | 9225 N UNION BLVD | COLORADO SPRINGS | 3 | $4,000 |
| KING SOOPERS #12 | 3050 W NORTHERN AVE | PUEBLO | 3 | $4,000 |
| KING SOOPERS #128 | 18211 E HAMPDEN AVE | AURORA | 3 | $9,500 |
| KING SOOPERS #20 | 3400 YOUNGFIELD ST | WHEAT RIDGE | 3 | $6,500 |
| KING SOOPERS #24 | 750 E 104TH AVE | THORNTON | 3 | $43,000 |
| KING SOOPERS #27 | 9551 S UNIVERSITY BLVD | HIGHLANDS RANCH | 3 | $45,000 |
| KING SOOPERS #36 | 8031 WADSWORTH BLVD | ARVADA | 3 | $6,000 |
| KING SOOPERS #49 | 17000 E ILIFF AVE | AURORA | 3 | $12,000 |
| KING SOOPERS #50 | 9800 W BELLEVIEW | LITTLETON | 3 | $5,000 |
| KING SOOPERS #55 | 9983 WADSWORTH PKWY | BROOMFIELD | 3 | $51,000 |
| KING SOOPERS #59 | 1545 S KIPLING ST | LAKEWOOD | 3 | $7,500 |
| KING SOOPERS #62 | 10351 N FEDERAL BLVD | WESTMINSTER | 3 | $23,500 |
| KING SOOPERS #75 | 12959 S PARKER RD | PARKER | 3 | $5,500 |
| KING SOOPERS #80 | 995 S HOVER ST | LONGMONT | 3 | $12,500 |
| KING SOOPERS #98 | 6030 STETSON HILLS BLVD | COLORADO SPRINGS | 3 | $9,500 |
| KUM & GO #930 | 2150 E BRIDGE STREET | BRIGHTON | 3 | $47,600 |
| LOAF N JUG #24 | 4401 W STATE HWY 165 | COLORADO CITY | 3 | $14,000 |
| LOAF N JUG #93 | 905 W HWY 50 | PUEBLO | 3 | $28,500 |
| LOVE'S COUNTRY STORES 12 | 208 EAST 1ST | LA JUNTA | 3 | $6,000 |
| SAFEWAY #892 | 3840 E 104TH AVE | THORNTON | 3 | $8,000 |
| SAFEWAY FUEL C-STRE 2722 | 8375 N RAMPART RANGE RD | LITTLETON | 3 | $8,500 |
| SAFEWAY STORES INC #1533 | 2901 F ROAD (PATTERSON) | GRAND JUNCTION | 3 | $8,000 |
| SAFEWAY STORES INC #1577 | 6520 S ACADEMY BLVD | COLORADO SPRINGS | 3 | $23,500 |
| SHELL #055 | 10396 WASHINGTON | THORNTON | 3 | $12,000 |
| VILLA PARK MINI MART | 1000 KNOX CT | DENVER | 3 | $32,500 |
| 7-ELEVEN #13082B | 310 W UINTAH ST | COLORADO SPRINGS | 2 | $3,500 |
| 7-ELEVEN #13093A | 1760 SHASTA DR | COLORADO SPRINGS | 2 | $6,500 |
| 7-ELEVEN #13111 | 2727 S PRAIRIE | PUEBLO | 2 | $3,500 |
| 7-ELEVEN #13128 | 9101 W JEWELL | LAKEWOOD | 2 | $3,500 |
| 7-ELEVEN #13206B | 3900 S BROADWAY | ENGLEWOOD | 2 | $3,500 |
| 7-ELEVEN #13209 | 1090 OGDEN STREET | DENVER | 2 | $12,000 |
| 7-ELEVEN #15041A | 311 W MAIN | STERLING | 2 | $2,500 |
| 7-ELEVEN #16094A | 1120 S PARKER RD | DENVER | 2 | $11,000 |
| 7-ELEVEN #17596B | 10722 E ALAMEDA | AURORA | 2 | $45,000 |
| 7-ELEVEN #22706A | 601 SANTA FE ST | FOUNTAIN | 2 | $3,500 |
| 7-ELEVEN #23154A | 13790 E QUINCY AVE | AURORA | 2 | $4,500 |
| 7-ELEVEN #23888A | 1702 S 8TH ST | COLORADO SPRINGS | 2 | $2,000 |
| 7-ELEVEN #25052B | 890 S FEDERAL | DENVER | 2 | $3,000 |
| 7-ELEVEN #27043A | 820 SIMMS ST #8 | GOLDEN | 2 | $1,001,500 |
| 7-ELEVEN #32386A | 4710 CENTENNIAL BLVD | COLORADO SPRINGS | 2 | $70,000 |
| 7-ELEVEN #34159 | 12285 S PARKER RD | PARKER | 2 | $32,000 |
| 7-ELEVEN #34504B | 7451 S GARTRELL RD | AURORA | 2 | $251,000 |
| 7-ELEVEN #35715B | 3876 E BROMLEY LANE | BRIGHTON | 2 | $6,000 |
| 7-ELEVEN #39472 BCP EL PASO CO | 4325 S CAREFREE CIRCLE | COLORADO SPRINGS | 2 | $2,500 |
| A-B PETROLEUM #34 | 303 S COLORADO BLVD | DENVER | 2 | $4,000 |
| ALTA CONVENIENCE #3104 | 725 W NORTHERN AVE | PUEBLO | 2 | $3,000 |
| ALTA CONVENIENCE #3106 | 2801 N ELIZABETH | PUEBLO | 2 | $3,500 |
| ALTA CONVENIENCE #5504 | 805 GRAND AVE | DEL NORTE | 2 | $2,000 |
| BEAVERS SUPERMARKET | 1100 W MOUNTAIN AVE | FORT COLLINS | 2 | $12,500 |
| BOOZERS RESERVE LIST | 22691 E AURORA PKWY #B1 | AURORA | 2 | $11,000 |
| BROADMOOR HEIGHTS CONVENIENCE | 2106 W EISENHOWER BLVD | LOVELAND | 2 | $6,500 |
| CIRCLE K #2703291 | 6135 N CAREFREE CIRCLE | COLORADO SPRINGS | 2 | $3,500 |
| CIRCLE K #2740633 | 1012 SUMMIT BLVD | FRISCO | 2 | $2,000 |
| CIRCLE K #2740648 | 8290 N WASHINGTON ST | THORNTON | 2 | $22,500 |
| CIRCLE K #2740678 | 1801 MAIN ST | COLORADO SPRINGS | 2 | $12,500 |
| CIRCLE K #2741118 | 1890 WADSWORTH BLVD | LAKEWOOD | 2 | $6,500 |
| CIRCLE K #2741127 | 14705 E ARAPAHOE RD | AURORA | 2 | $7,500 |
| CIRCLE K #2741167 | 13456 W BOWLES AVE | LITTLETON | 2 | $12,500 |
| CIRCLE K #2741715 | 6220 S GUN CLUB ROAD | AURORA | 2 | $6,000 |
| CIRCLE K #2741716 | 1110 S BUCKLEY RD | AURORA | 2 | $3,500 |
| CITY MARKET #401 | 2770 HWY 50 SOUTH | GRAND JUNCTION | 2 | $2,500 |
| CITY MARKET #405 | 1410 GRAND AVE | GLENWOOD SPRINGS | 2 | $4,500 |
| CITY MARKET #414 | 1825 CENTRAL PARK DR | STEAMBOAT SPRINGS | 2 | $10,000 |
| CITY MARKET #420 | 300 US HWY 6 | DILLON | 2 | $21,500 |
| CITY MARKET #426 | 72 BEAVER CREEK PL | AVON | 2 | $12,000 |
| DESPERADO | 40486 D LANE | CRAWFORD | 2 | $11,000 |
| DIAMOND SHAMROCK #1171 | 430 W ABRIENDO AVE | PUEBLO | 2 | $12,500 |
| DIAMOND SHAMROCK #654 | 7680 W 88TH AVE | WESTMINSTER | 2 | $5,000 |
| EATON CONVENIENCE STORE | 55 S OAK | EATON | 2 | $4,000 |
| EXXON #264 | 16820 E 6TH AVE | AURORA | 2 | $7,500 |
| GAS AND FOOD STORE | 6215 CARR ST | ARVADA | 2 | $1,025,000 |
| GO-FER FOODS CEDAREDGE | 915 S GRAND MESA DR | CEDAREDGE | 2 | $2,000 |
| GOOD 2 GO STORE 710 | 717 S BROADWAY | CORTEZ | 2 | $2,000 |
| JB'S CONVENIENCE STORE | 710 E MAGNOLIA | FORT COLLINS | 2 | $252,000 |
| J R 'S #814 | 806 E GOODARD AVE | TRINIDAD | 2 | $3,000 |
| KING SOOPERS #01 | 1331 SPEER BLVD | DENVER | 2 | $11,500 |
| KING SOOPERS #100 | 4910 S YOSEMITE STREET | GREENWOOD VILLAGE | 2 | $4,500 |
| KING SOOPERS #104 | 1520 MAIN ST | WINDSOR | 2 | $3,500 |
| KING SOOPERS #112 | 1045 1ST STREET | BENNETT | 2 | $4,500 |
| KING SOOPERS #118 | 2355 W 136TH AVE | BROOMFIELD | 2 | $4,500 |
| KING SOOPERS #125 | 5544 PROMENADE PKWY | CASTLE ROCK | 2 | $3,000 |
| KING SOOPERS #130 | 3620 AUSTIN BLUFFS PKWY | COLORADO SPRINGS | 2 | $4,500 |
| KING SOOPERS #132 | 750 RIDGE RD | CASTLE ROCK | 2 | $3,000 |
| KING SOOPERS #16 | 19711 E SMOKY HILL RD | CENTENNIAL | 2 | $7,500 |
| KING SOOPERS #21 | 825 S COLORADO BLVD | DENVER | 2 | $41,000 |
| KING SOOPERS #25 | 11747 W KEN CARYL AVE | LITTLETON | 2 | $2,500 |
| KING SOOPERS #33 | 3600 TABLE MESA DRIVE | BOULDER | 2 | $2,500 |
| KING SOOPERS #35 | 890 S MONACO PKWY | DENVER | 2 | $7,000 |
| KING SOOPERS #38 | 5050 E ARAPAHOE RD | LITTLETON | 2 | $20,000 |
| KING SOOPERS #40 | 12043 W ALAMEDA | LAKEWOOD | 2 | $252,500 |
| KING SOOPERS #52 | 15109 E COLFAX | AURORA | 2 | $4,500 |
| KING SOOPERS #61 | 1650 30TH ST | BOULDER | 2 | $11,000 |
| KING SOOPERS #65 | 101 ENGLEWOOD PKWY | ENGLEWOOD | 2 | $3,500 |
| KING SOOPERS #69 | 4271 S BUCKLEY RD | AURORA | 2 | $3,000 |
| KING SOOPERS #77 | 1070 W BAPTIST RD | COLORADO SPRINGS | 2 | $5,000 |
| KING SOOPERS #78 | 8126 S WADSWORTH BLVD | LITTLETON | 2 | $3,500 |
| KING SOOPERS #82 | 17171 S GOLDEN RD | GOLDEN | 2 | $2,000 |
| KING SOOPERS #85 | 15200 W 64TH AVE | ARVADA | 2 | $3,000 |
| KING SOOPERS #87 | 25637 CONIFER RD | CONIFER | 2 | $17,000 |
| KING SOOPERS #89 | 1150 US HIGHWAY 287 | BROOMFIELD | 2 | $5,000 |
| KING SOOPERS #93 | 2810 QUEBEC ST | DENVER | 2 | $3,000 |
| KITTREDGE GENERAL STORE | 26301 HILLTOP DR HWY 74 | KITTREDGE | 2 | $4,500 |
| KUM & GO #1903 | 700 E VICTORY WAY | CRAIG | 2 | $10,000 |
| KUM & GO #650 | 17970 KNOLLWOOD DRIVE | MONUMENT | 2 | $7,000 |
| KUM & GO #669 | 6735 N CAREFREE CIRCLE | COLORADO SPRINGS | 2 | $5,000 |
| KUM & GO #672 | 3025 HANCOCK EXPRESS WAY | COLORADO SPRINGS | 2 | $6,500 |
| KUM & GO #906 | 0010 STONE QUARRY RD | BATTLEMENT MESA | 2 | $16,000 |
| KUM & GO #927 | 801 CASTLE VALLEY BLVD | NEW CASTLE | 2 | $3,500 |
| KUM & GO #940 | 70 W BRIDGE ST | BRIGHTON | 2 | $3,000 |
| KWIK STOP #7 | 101 S MCCULLOCH BLVD | PUEBLO WEST | 2 | $41,000 |
| LOAF N JUG #37 | 3980 IVYWOOD | PUEBLO | 2 | $4,000 |
| LOAF N JUG #38 | 1002 BONFORTE BLVD | PUEBLO | 2 | $3,500 |
| LOAF N JUG #47 | 112 FAIRGROUNDS RD | EAGLE | 2 | $15,000 |
| LOAF N JUG #50 | 1025 FIFTH STREET | CALHAN | 2 | $12,000 |
| LOAF N JUG #601 | 7055 ALEGRE CIRCLE | FOUNTAIN | 2 | $2,000 |
| LOAF N JUG #64 | 707 MAIN ST | LIMON | 2 | $20,000 |
| LOAF N JUG #75 | 1700 SANTA FE DR | PUEBLO | 2 | $2,500 |
| LOAF N JUG #850 | 1001 39TH AVE | GREELEY | 2 | $3,500 |
| LOAF N JUG #868 | 101 W BRONTOSAURUS BLVD | DINOSAUR | 2 | $20,000 |
| LOAF N JUG #94 | 16355 W 64TH AVE | ARVADA | 2 | $21,500 |
| LOAF N JUG #98 | 5825 N ACADEMY BLVD | COLORADO SPRINGS | 2 | $6,500 |
| LOTTERY SPEC EVENTS/MARIE V | 720 S COLORADO BLVD #110A | DENVER | 2 | $5,000 |
| LOVES COUNTRY STORES #357 | 5505 TRAVEL PLAZA DR | FOUNTAIN | 2 | $11,500 |
| LOWELL MART | 6855 LOWELL BLVD | WESTMINSTER | 2 | $3,500 |
| MCCOY'S RESTAURANT | 4855 N FEDERAL BLVD | DENVER | 2 | $2,500 |
| MY GOODS MARKET #0743 | 6646 TIMBERLINE RD | HIGHLANDS RANCH | 2 | $6,000 |
| MY GOODS MARKET #6549 | 15371 E ORCHARD RD | AURORA | 2 | $3,000 |
| OBERON FOOD & GAS | 6601 OBERON RD | ARVADA | 2 | $31,500 |
| RUSSELL'S #221 | 1200 17TH ST | DENVER | 2 | $50,000 |
| SAFEWAY FUEL MINI C-2913 | 2160 W DRAKE ROAD | FORT COLLINS | 2 | $7,500 |
| SAFEWAY STORES INC #0027 | 5025 S KIPLING PKWY | LITTLETON | 2 | $4,500 |
| SAFEWAY STORES INC #0920 | 451 E WONDERVIEW | ESTES PARK | 2 | $16,000 |
| SAFEWAY STORES INC #1248 | 2660 FEDERAL BLVD | DENVER | 2 | $3,500 |
| SAFEWAY STORES INC #1548 | 9229 E LINCOLN AVE | LONE TREE | 2 | $4,500 |
| SAFEWAY STORES INC #1587 | 7353 FEDERAL BLVD | WESTMINSTER | 2 | $2,500 |
| SAFEWAY STORES INC #2612 | 1677 S HAVANA ST | AURORA | 2 | $4,500 |
| SAFEWAY STORES INC #2791 | 181 W MINERAL | LITTLETON | 2 | $42,500 |
| SHELL #176 | 6200 S SANTA FE | LITTLETON | 2 | $5,000 |
| SMOKER FRIENDLY #520 | 301 MARTIN | LONGMONT | 2 | $11,500 |
| SMOKER FRIENDLY #538 | 2698 S PARKER RD | AURORA | 2 | $3,500 |
| THE SERVICE OIL CO #2701 | 2701 JANITELL RD | COLORADO SPRINGS | 2 | $12,500 |
| YOSEMITE CONOCO | 8900 E HAMPDEN AVE | DENVER | 2 | $3,500 |
Data from Colorado Lottery