This is an archived article and the information in the article may be outdated. Please look at the time stamp on the story to see when it was last updated.
CHAFFEE COUNTY, Colo. — A dog that had been missing for nearly three weeks was found alive after being thrown from a vehicle that fell 600 feet in Chaffee County.
Jennifer Orr, 43, of Wichita, Kansas, was driving her Jeep on Iron Chest Road, a rough four-wheel-drive road with steep drop-offs, in a caravan of five privately owned Jeeps, according to The Mountain Mail.
Orr tried to maneuver over a large rock on the road when her vehicle started to slide and fell 600 feet down the mountainside.
Orr was killed and her daughter, Sam Orr, was taken to a hospital with serious injuries.
Orr's 1-year-old goldendoodle named Bentley was thrown from the vehicle during the crash and was last seen running from the scene.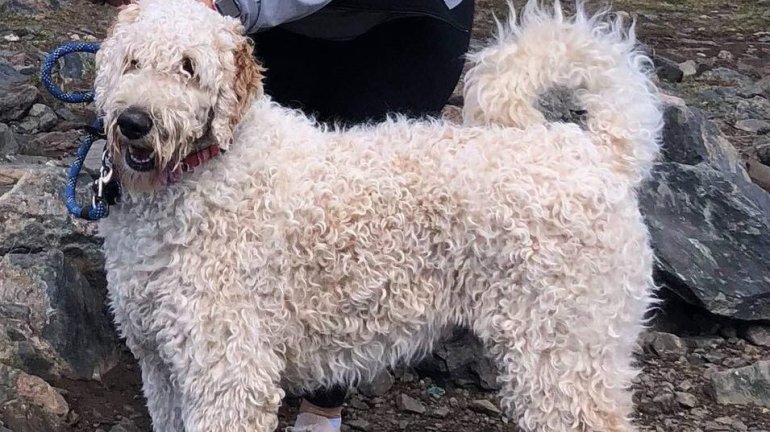 Sam Orr posted on Facebook saying that Bentley was recently seen sitting on the same mountain above the crash site. On Saturday, she posted about her journey to rescue Bentley from the mountain.
"We were able to spot Bentley early in the day, a few hours in, I came within 30-40 feet of him. He wouldn't come to me, but seemed interested." Orr wrote on Facebook.
She said that she followed him up to the ridge where she unpacked some food and new toys for him. After he still didn't come to her, she wrote that she gave him some space.
When she came back, that's when Bentley started moving closer to her and the two reunited in her arms.
Orr said Bentley was a little malnourished and dehydrated but was OK and had no noticeable injuries.