This is an archived article and the information in the article may be outdated. Please look at the time stamp on the story to see when it was last updated.
DENVER (KDVR) — Snow came to an end across Colorado early Thursday morning. Across the Front Range, most saw a range of snow from 4 to 8 inches. Some areas saw heavier pockets of snowfall.
Here is a look at preliminary snow totals from the National Weather Service as of 9 a.m. on Thursday.
Arvada: 6 inches
Aspen Park: 7 inches
Aurora: 5.1 inches
Berthoud Pass: 4.8 inches
Beulah: 6 inches
Boulder: 6 inches
Broomfield: 5.5 inches
Brookvale: 5 inches
Calhan: 4 inches
Cameron Pass: 3.2 inches
Castle Rock: 3 inches
Conifer: 7 inches
Crescent Village: 7 inches
Denver International Airport: 5 inches
Downtown Denver: 5 inches
Echo Lake: 3.2 inches
Edgewater: 7 inches
Englewood: 6 inches
Erie: 2.7 inches
Estes Park: 3 inches
Evergreen: 4.4 inches
Fort Collins: 4 inches
Genesee: 9 inches
Glendevey: 3.2 inches
Grand Lake: 3.2 inches
Grand Mesa National Forest: 4 inches
Greeley: 2.6 inches
Golden: 7.1 inches
Highlands Ranch: 3.8 inches
La Junta: 3 inches
Lakewood: 5.5 inches
Leyden: 2.6 inches
Longmont: 6 inch
Louisville: 5.4 inches
Loveland: 2 inches
Marshall: 5.4 inches
Monument: 4 inches
Morrison: 4 inches
Mount Audubon: 8 inches
Nederland: 7 inches
Northglenn: 3.6 inches
Palmer Lake: 7 inches
Parker: 3 inches
Pinecliffe: 8.2 inches
Pinegree Park: 3.2 inches
Pleasant View: 4 inches
Poudre: 4 inches
Silverthorne: 3.8 inches
Snowmass: 11 inches
Superior: 5.5 inches
Thornton: 3.6 inches
Timnath: 4 inches
Ward: 4.8 inches
Westminster: 4.4 inches
Wetmore: 8 inches
Wheat Ridge: 4.6 inches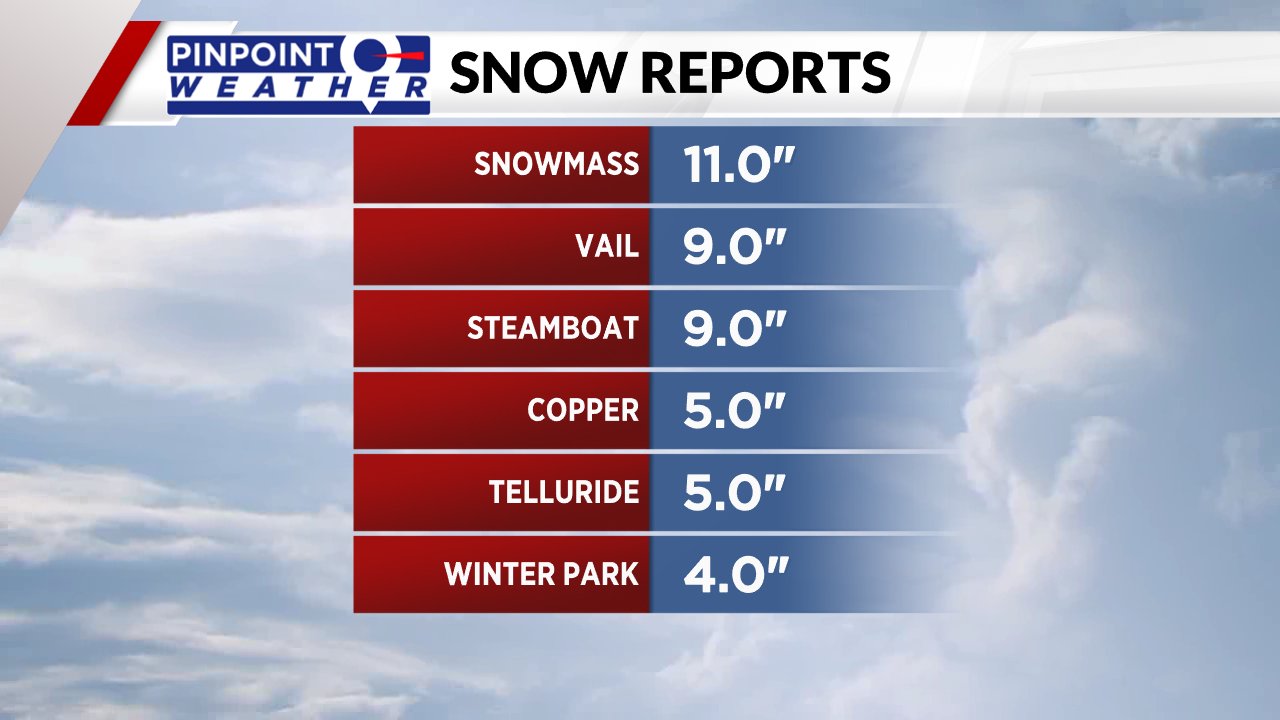 Don't see your town or city listed? This list includes everything reported to the NWS through its own measurements and other sources reported to the agency. More locations may be added over time. Check back for updates.