This is an archived article and the information in the article may be outdated. Please look at the time stamp on the story to see when it was last updated.
DENVER — The Denver Post apologized Friday morning after photos of the front page of the Life & Culture section went viral.
Under the headline, "The ultimate visitors guide to Coors Field" was a large photo — only it wasn't the home of the Rockies at 20th and Blake streets in Denver.
Instead, it was a panoramic shot of Citizens Bank Park, the home of the Philadelphia Phillies.
The photo was a Getty Images shot, not one from its own staff, taken during Game 2 of the National League Division Series between the Rockies and Phillies on Oct. 4, 2007.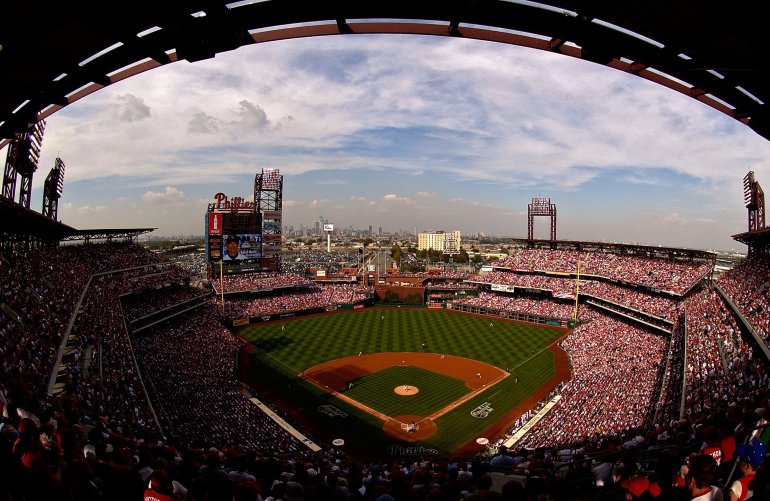 The Post said it was a production error. The Post, along with the Boulder Daily Camera, Longmont Daily Times-Call and Loveland Reporter-Herald, has been produced at a design hub in Boulder for the past year.
All of the newspapers are owned by Media News Group.
Due to a production error, an image of Citizens Bank Park ran in place of Coors Field on the cover of today's Life & Culture section. Please enjoy this beautiful image of Coors Field photographed yesterday. The Denver Post sincerely regrets the error. pic.twitter.com/0bwW2snOLb

— The Denver Post (@denverpost) April 6, 2018
Deputy sports editor Matt Stephens said the sports staff didn't see the mistake until after it was printed, saying it was "obviously a bad look."
The beleaguered newspaper, which has laid off numerous writers and editors the past three years, was roasted on social media for the mistake.
After the Rockies posted a shot of Coors Field ahead of its home opener, the Phillies had a joke at the ready.
What a lovely photo of Citizens Bank Park.

Right, @denverpost? 😉 https://t.co/CHV1mC4Gr2

— Philadelphia Phillies (@Phillies) April 6, 2018
Others didn't hold back, either.
https://twitter.com/Adam_A_Sanford/status/982256467578204160
The ultimate guide to Yankee Stadium. Just check out that NYC Skyline. pic.twitter.com/CdukMtuTQA

— Dylan Stephens (@dylanls1763) April 6, 2018
Weird how the Denver Post laid off a ton of journalists, then printed a photo of the stadium in Philadelphia with "Phillies" all over it and called it Coors Field, I'm sure those are two totally unrelated things that happened. https://t.co/0aGY5oym5O

— Jesse Spector (@jessespector) April 6, 2018
I take zero joy in pointing out the errors of other reporters.

But when you show a stadium in Philadelphia instead of Coors Field for the @Rockies home opener, it might be because you've fired too many great journalists. pic.twitter.com/1L4G4AaUoE

— Jeremy Hubbard (@JeremyHubbard) April 6, 2018
"I can't believe the Denver Post put the wrong stadium on the cover of the paper on opening day…" [Remembers the last 5 years of decisions by the Denver Post] "I take back my last comment, I can absolutely see the Denver Post making that mistake." pic.twitter.com/HBvc6EvrNI

— TJesus 🧢 (@TJCarpenterShow) April 6, 2018
The Denver Post presents your ultimate Rockies opening day guide pic.twitter.com/bAPMQPFacz

— Clue Heywood (@ClueHeywood) April 6, 2018
Coming soon to the @denverpost: "Welcome to Mile High!" @ArrowheadPride 😉 pic.twitter.com/lOxOizQuDL

— MileHighReport (@MileHighReport) April 6, 2018
Tomorrow's Denver Post has a terrific guide to #theMasters pic.twitter.com/Jxx7RUdUd2

— Tab Bamford (@The1Tab) April 6, 2018
Check out my new @denverpost column on great places to drink near Wrigley Field. pic.twitter.com/18FGoAdHim

— Desipio.com (@desipiodotcom) April 6, 2018
The ultimate guide to Minute Maid Park! pic.twitter.com/bj3s9n9D2O

— Mike Monaghan (@lifewithmikey52) April 6, 2018
Great story about the state of Colorado in today's @denverpost pic.twitter.com/Lr3kk6w2QX

— ThatsGoodSports (@BrandonPerna) April 6, 2018
I'm not sure if this photo of Coors Field in the @denverpost is all that accurate. Can someone let me know if it is? pic.twitter.com/8rNHWn4y5f

— CogginToboggan (@CogginToboggan) April 6, 2018
😂😂Somebody at @denverpost drinkin way too many Coors 🍺 https://t.co/ZPMiCvyezA

— John Clark (@JClarkNBCS) April 6, 2018