This is an archived article and the information in the article may be outdated. Please look at the time stamp on the story to see when it was last updated.
DENVER — Officers pursued a stolen tractor towing an attachment through central Denver Friday night. The chase is believed to have began near City Park and ended in Lower Downtown.
The tractor was stolen from a Denver Water facility at 1600 West 12th Avenue in the Lincoln Park neighborhood.
We are working with @DenverPolice regarding their investigation into the stolen tractor Friday night. Any additional questions regarding this investigation should be directed to them at this time. Thank you.

— Denver Water 💦 (@DenverWater) July 21, 2018
Videos show a number of Denver Police Department vehicles pursuing the tractor, which could be seen driving on busy city streets and sidewalks. One clip shows the tractor crossing Park Avenue.
#Denver #tractor #slowspeedpursuit pic.twitter.com/jBQTEzlK9o

— garbuckle (@gazucci) July 21, 2018
The pursuit ended near 15th and Market Streets in LoDo. The Denver Police Department said two of its officers were taken to the hospital with injuries. By Saturday morning, both had been treated and released.
One witness said the pursuit ended when a police cruiser hit the tractor head-on. The impact was strong enough to make the police vehicle's airbags deploy. The witness reported that immediately after, the officer who had been driving the wrecked cruiser used a Taser to subdue the tractor driver.
#Breaking @DenverPolice blocking off several blocks around 15th and Market. One cruiser is wrecked after hitting a tractor. @KDVR @channel2kwgn pic.twitter.com/4kqVtfhBWR

— Alex Rose (@AlexRoseNews) July 21, 2018
Another witness reported the male suspect was apprehended and placed in an ambulance.
"It could've definitely been a lot worse, for sure," he said.
The second witness also described the actions of the officer who rammed their vehicle into the tractor, ending the pursuit.
"Him doing that and going for it — that takes a lot of dedication," he said.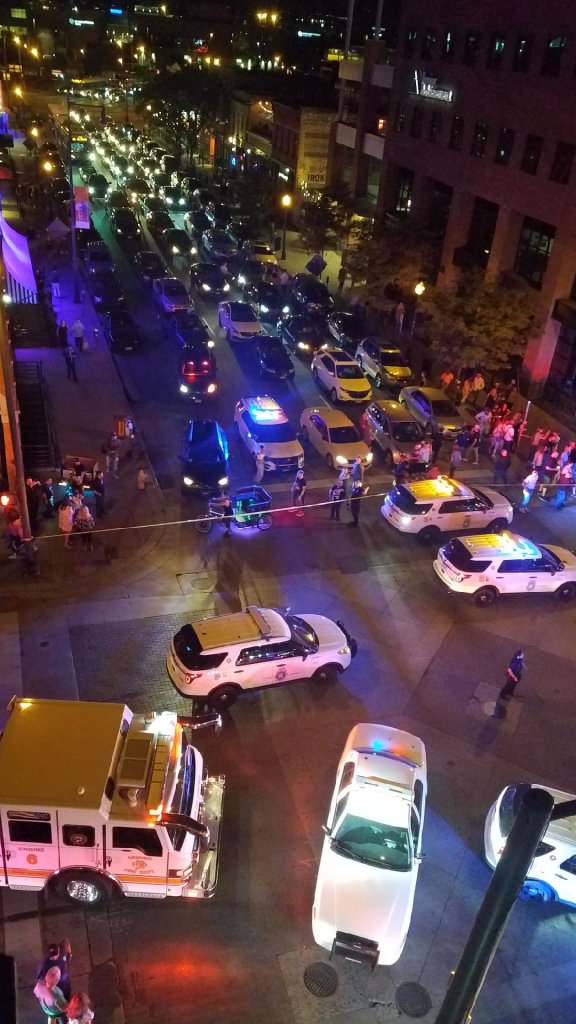 Police said officers did not fire their guns.
Police have not released the suspect's identity as the investigation is ongoing.
FOX31 and Channel 2 have reached out to the DPD for details regarding the circumstances of the chase.
This story will be updated as authorities make more information available.
For alerts on the latest breaking news, download our app for iPhone and Android.