This is an archived article and the information in the article may be outdated. Please look at the time stamp on the story to see when it was last updated.
DENVER — A startup company at the University of Colorado Denver won the NFL's "1st and Future" grant for inventing a technology for a safer football helmet.
CU Denver startup Impressio pitched the technology to a panel of experts during Super Bowl weekend in Minneapolis and was granted $50,000 by the NFL to start testing their patented technology in football helmets.
The panel was made up of NFL commissioner Roger Goodell, NBC Sports chairman Mark Lazarus, Mayo Clinic president and CEO John H. Noseworthy and Seattle Seahawks quarterback Russell Wilson.
Chris Yakacki, a professor in CU Denver's College of Engineering and Applied Science, led a team of graduate and undergraduate researchers in developing the new material.
He co-founded Impressio to take the technology to market.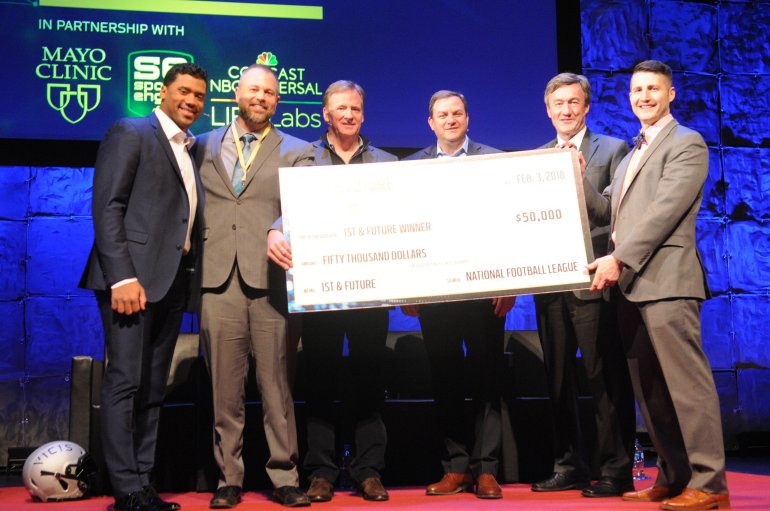 The material used by Impressio is designed to absorb far more impact than current materials.
For example, a ball with their material dropped from several feet above the ground will hardly bounce and will absorb the energy compared to a similar size ball without the technology, which will bounce normally.
They're hoping that material can go in the pads inside a helmet and make football a lot safer.
"We've shown scientifically that this material is unique and behaves better than everything else out there," Yakacki said.
"We want to show that we can take this material, put it into a football helmet, test it, and prove without a shadow of a doubt that it makes a helmet safer."
With the NFL grant, Impressio will immediately start testing its patented Liquid Crystal Elastomer technology in football helmets with the goal of having upgraded helmets on the field at CU by spring practice.
Football helmets were made of leather in the 1920s and evolved in the 1970s and 1980s with the use of foams and air bladders.
But the materials have been mostly the same for decades.
Impressio makes different types of pads for different players' helmets. For example, the pads used in a quarterback's helmet would be different than the pads used in a running back's helmet.
The ultimate goal for the company is to have the material go far beyond just football helmets.
The mission is to incorporate this into the next generation of biomedical devices and orthopedic implants.