This is an archived article and the information in the article may be outdated. Please look at the time stamp on the story to see when it was last updated.
PARK COUNTY, Colo. — Crews are fighting a wildfire in northeastern Park County.
At 3:42 p.m. Monday, the Platte Canyon Fire Department said it was responding to the fire alongside other agencies, including the U.S. Forest Service.
The fire is located near Shawnee Peak in the Lost Creek Wilderness, southwest of Bailey. The area is part of the Pike National Forest.
PCFD said the fire is being called the Shawnee Peak Fire.
Smoke is visible from Bailey and other nearby communities.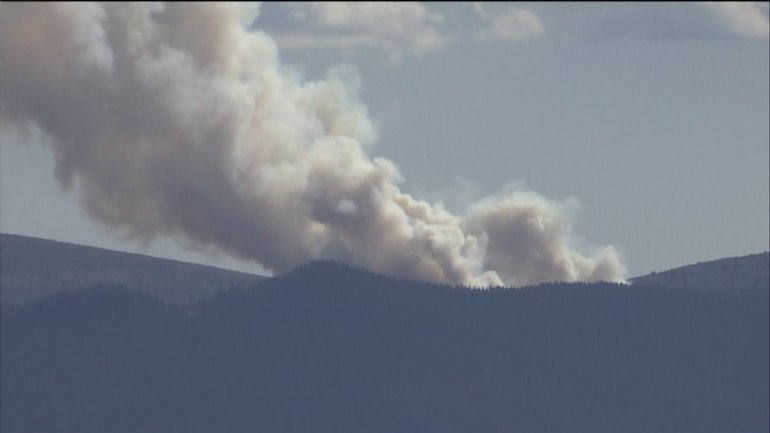 No structures are currently threatened. The closest community is Shawnee, which is about 3 miles away. Roughly 150 structures are located there.
The following trailheads have been closed due to the fire: Payne Creek/Brookside McCurdy, Brookside AG, North Ben Tyler, Rock Creek, Long Gulch and North Fork. Additionally, the following trails have been closed: Brookside McCurdy, Brookside AG, Craig Park, Ben Tyler and Payne Creek
The fire is burning in an area that last had rainfall on Aug. 9, when about 1/3 of an inch fell. The area's rainfall this August is 24% of normal, and 44% of normal for the summer, according to meteorologist Matt Makens.
Temperatures in the area have been running slightly over one degree warmer than average this summer.
As of Wednesday night, the fire had burned an estimated 37 acres — the same estimate from the days prior.
Ground and air resources are fighting the fire. A total of 159 people are involved, according to an update from the Forest Service.
Cool temperatures and higher humidity helped crews fight the fire Tuesday. However, warmer temperatures and low humidity made firefighting more difficult Wednesday.
On Thursday, officials shared an update, stating the fire is 40% contained. Firefighters have created a fireline east of the fire and south along the Craig Creek Trail.
Officials with the Pike and San Isabel National Forest say the fire will continue to burn on Friday as it moves through unburned fuels between the fire perimeter and constructed firelines.
On Monday morning, Park County officials sent out an update on the fire. It is now 60 percent contained. It has burned a total of 70 acres.
Officials also say the fire was caused by lightning.
No structures are at risk at this time.