This is an archived article and the information in the article may be outdated. Please look at the time stamp on the story to see when it was last updated.
DENVER — Big booms, roars and shaking homes.
It sounds like something you would experience in San Francisco, but Colorado is also starting to see a growing number of earthquakes.
Most all of them are man-made.
Scientists at the University of Colorado have been closely studying a rash of earthquakes in Colorado and northern New Mexico over the past decade.
They say most have been caused by fluids pumped deep underground during oil and gas wastewater disposal.
When oil is removed from the ground so is water. After drilling, the wastewater is injected back into the ground.
The problem is that it can seep into existing faults and that pressure can pry the rock apart and cause a fault to slide.
"There are many case studies so it's very clear it's happening," said William Yeck, a geophysicist with the U.S. Geological Survey in Golden.
Injection-induced earthquakes in Colorado are primarily occurring in two parts of the state: In Weld County near Greeley and in the Raton Basin along the Colorado-New Mexico border.
A University of Colorado study recorded more than 1,800 earthquakes in the Raton Basin between 2008 and 2010 up to magnitude 4.3.
In Weld County near Greeley, thousands of earthquakes have also been reported over the past five years.
The largest induced earthquake to hit that region is a magnitude 3.4 that struck the night of May 31, 2014, causing minor damage to a handful of homes.
"It got your attention, let's put it that way. We didn't know what it was," said Judy Dunn, a resident who felt the quake.
"There were no earthquakes in Weld County so in 2014 when that magnitude 3.4 earthquake happened it caught our attention and we went out to study it right away," said Anne Sheehan, a CU geological sciences professor.
Sheehan and her team of scientists immediately began setting up seismometers in the area.
In the years since 2014 they have recorded hundreds of earthquakes.
"2014 was kind of the first in a sequence. The other earthquakes after that were smaller. There was a 2.6. There was a magnitude 3.0 last year," said Sheehan.
Most of the earthquakes have been so small they can't be felt. However, it's the frequency of the earthquakes in a region that never experienced them that has many concerned.
Wastewater injection doesn't cause earthquakes near all wells. Scientists are still trying to learn why some wells are more susceptible than others.
There are 45 wells in Weld County actively injecting wastewater into the ground.
"A lot of wastewater injection wells don't have seismic activity around them and we haven't really figured out why some do and some don't," said Jenny Nakai with CU.
Colorado experienced the nation's very first induced earthquake in 1962 at the Rocky Mountain Arsenal north of Denver.
Chemical waste was being injected deep into the ground there. The injection triggered an earthquake strong enough to damage a nearby overpass.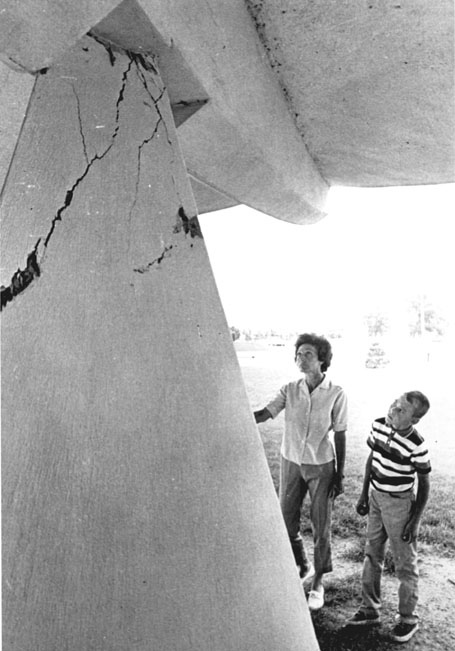 About 1,300 smaller earthquakes were recorded in the area over the next five years.
Because of the recent spike in man-made earthquakes, engineers at CU are also working to help design new building materials that can better withstand seismic activity.
"There's been a big debate in the building code community about whether we should be designing for earthquakes in places that are now seeing earthquakes. It's a really hard question," said Abbie Liel, an associate professor in civil, environmental and architectural engineering at CU.
It's a hard question because no one knows the long term impacts of wastewater injections.
"If wastewater injection increases in the region you could expect more earthquakes," Yeck said.
Yeck is closely monitoring not only the rise in seismic activity in Weld County, but also the oil and gas industry's response.
"I don't think anyone wants more earthquakes," he said.
After the 3.4 magnitude quake in 2014, many oil companies began sealing the bottoms of wells to try to prevent wastewater from leaking into basement rocks where quakes are triggered.
Many companies also spread injection wells farther apart. The measures do seem to be resulting in fewer earthquakes.
The state agency that regulates oil and gas can also take steps to shut down oil wells if it believes wastewater injections are generating earthquakes in the area.
"Right after the earthquake in 2014 we were getting quite a few per day. Now it's a couple per month," Sheehan said
That's a reassuring trend for homeowners such as Dunn who have reaped the rewards of oil and gas development and don't want to see the wells disappear."
"If you have to put up with something on your property we'll put up with that," Dunn said. "They make it worth our while. At least there's something we can leave our kids some day."
More  about Colorado earthquakes
Map: All seismic activity in Colorado since 2000 recorded by USGS
Data: CU Denver Basin Earthquake Study
More: Details on study following 2014 Greeley earthquake
Biggest myths about induced earthquakes
Where Colorado's earthquakes are happening