This is an archived article and the information in the article may be outdated. Please look at the time stamp on the story to see when it was last updated.
DENVER — Fast-casual restaurant giant Chipotle will relocate its headquarters from Denver to Newport Beach, California. The chain announced the decision Wednesday.
"Functions of the current Denver office will be consolidated in Chipotle's existing office in Columbus, Ohio or moved to the new headquarters in Newport Beach," Chipotle said.
"We'll always be proud of our Denver roots where we opened our first restaurant 25 years ago," said Brian Niccol, Chipotle's CEO. "The consolidation of offices and the move to California will help us drive sustainable growth while continuing to position us well in the competition for top talent."
Niccols said the chain is trying to "revitalize the brand and enable long-term success."
The transition will take place during the next six months. Chipotle's New York operations will also relocate to Columbus and Newport Beach. Eventually, the Denver and New York offices will close entirely.
The move affects approximately 400 employees between the Denver and New York offices. The chain's 70,000 field operations and restaurant employees will not be impacted.
"Newport Beach will serve as the headquarters for the company's operations, business development, marketing, communications, finance, supply chain, food safety, technology, HR and other corporate functions. The support functions will be located in the Shared Services Center in Columbus," the chain said in a release.
Chipotle was founded by Steve Ells in Denver in 1993 with a single restaurant on Evans Avenue near the University of Denver. Today, there are more than 2,400 Chipotles worldwide.
In December, the developer of a new 40-floor high-rise in downtown Denver announced Chipotle agreed to lease 152,000 square feet (five floors) of space for 15 years.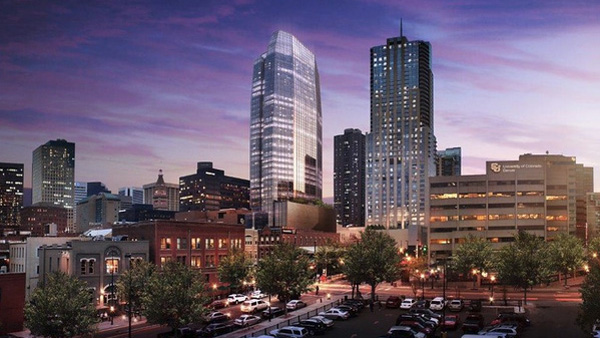 On Wednesday afternoon, Colorado Governor John Hickenlooper said he wishes the company "all the best." He said there are government services available to help the hundreds of employees based in Denver find new work.
We wish @ChipotleTweets all the best. We want their existing employees to know we have services that can help them find new jobs.

— Jared Polis (@GovofCO) May 23, 2018