This is an archived article and the information in the article may be outdated. Please look at the time stamp on the story to see when it was last updated.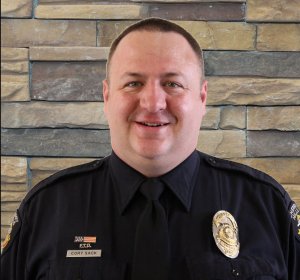 CHERRY HILLS VILLAGE, Colo. — An officer was shot in a shootout and four suspects were being sought after a home invasion late Monday night, the Cherry Hills Village Police Department said.
Several law enforcement SWAT teams were searching for the suspects near Hampden Avenue and Colorado Boulevard on Tuesday morning.
The suspects were not found and the shelter-in-place order was lifted after 8 a.m.
"There's evidence inside the home. There's evidence outside the home, on the street, in the backyard, so there's a lot of things we need to get done," Cherry Hills Village Police Chief Michelle Tovrea said.
An officer responded to a home on Sedgwick Drive about 10:50 p.m. after someone called 911 and hung up, police said.
The officer, identified as Corey Sack, found the door to the home open and went inside where the suspects were found. Gunfire was exchanged and the officer was hit in the upper leg and in the heel.
Sack, who has been with the department for seven years, was able to get out of the house and was taken to Swedish Medical Center.
Sack, who is married with two children, is in stable condition and expected to survive, police said.
The homeowner and family were able to get out of the house and were taken to a safe location, police said.
SWAT crews from Cherry Hills Village, the Arapahoe County Sheriff's Office and the Englewood Police Department were searching the neighborhood and open space for the suspects.
Police said two of the four suspects have been identified as being black males dressed in all black. Two of the suspects were confirmed to have been in the house.
No one has been taken into custody and a vehicle has been recovered as part of the investigation, police said.
Several homes in the area received emergency notification calls about the situation and a shelter-in-place order was in effect for several hours.
Hampden Avenue was closed from University Boulevard to Colorado Boulevard for several hours but has since reopened.
Tovrea said she believes it's the first time an officer from the Cherry Hills Village Police Department has been shot in the line of duty.