This is an archived article and the information in the article may be outdated. Please look at the time stamp on the story to see when it was last updated.
DENVER -- Ten Denver Police Department officers were honored Wednesday for their acts by the group Citizens Appreciate Police.
The nonprofit recognizes outstanding work by officers who go above and beyond the call of duty.
"They're immersed in community, serving community -- that's a different level of service. This is uncommon across the country, and thanks to you, this is showing it is more common here in Denver than it is elsewhere," said Denver Department of Public Safety Director Troy Riggs.
One group of District 4 officers helped a family whose mother had just died from cancer.
Sgt. Timothy Hyatt, and officers Alexis Aranda, Fernando Benavides, Rueban Garduno, Joseph Heckenkamp, Kyle McNabb, Christopher Parton and Christopher Valderrama donated money to support the family for the Christmas holiday.
The officers went shopping and bought gifts for the family.
In addition to the presents purchased, the officers also ensured the family had a meal large enough for 10 people so they could gather together and celebrate Christmas the way their mother would have had them do.
"As a commander, it makes me very proud of what they do," Cmdr. Mark Fleecs said. "I can attest to the fact that every one of these officers that got an award today are extraordinary in the things they do. Not only are they great crime fighters, but you can see they do great things for the community as well."
Two other officers, Alicia Martinez and Monique Sedberry, received CAP awards for helping a 15-year-old legally blind boy who was being bullied at school.
"We responded to the call and he was contemplating suicide. My partner and I met with him. We were able to get him so help. Ever since that day, we've been in communication with him. He's doing really well," Sedberry said.
The two officers have maintained a friendship with him and have spent their own money to buy him and his siblings backpacks, clothes and school supplies.
"I grew up in District 4, so I am glad I can give back to the community," Martinez said.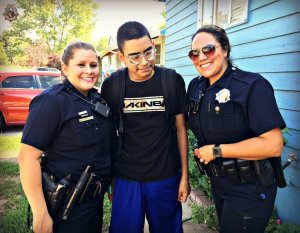 The CAP board, consisting of 16 citizen volunteers, meets four times a year to review nominations, select recipients and present awards.
Each award winner receives a pin that is worn on the officer's uniform and a plaque.
Nominations for the CAP Award come primarily from letters to the chief of police from private citizens applauding officers for their actions while either on or off duty.
Nomination letters can be sent to Chief Robert White at:
Citizens Appreciate Police
1331 Cherokee St.
Denver, CO 80204
Nominations can also be emailed to the CAP board at CAPBoardDenver@gmail.com.