This is an archived article and the information in the article may be outdated. Please look at the time stamp on the story to see when it was last updated.
SUMMIT COUNTY, Colo. — An avalanche came down along Interstate 70 early Thursday morning, trapping a tow truck driver and closing the interstate in both directions between Frisco and Vail. The Colorado State Patrol first tweeted about the avalanche shortly after 1 a.m. Authorities expect the highway to remain closed until mid-morning. Crews will be on scene to mitigate the hazards. The tow truck driver that was caught in the avalanche is okay, according to CSP.
#VailPass avalanche at MP 186. @ColoradoDOT has crews on scene with heavy snow equipment enroute. One tow truck was caught in the avalanche. Tow driver is okay! #COTraffic #CoWx pic.twitter.com/mfrTYTU4si

— CSP Eagle (@CSP_Eagle) March 7, 2019
#BREAKING ROAD CLOSURE: #VailPass is now closed WB at Copper Mountain (Exit 195) due to large natural avalanche at MP 186. All westbound lanes are covered. This will take @ColoradoDOT crews several hours to clear. #COTraffic pic.twitter.com/T1OGCOb291

— CSP Eagle (@CSP_Eagle) March 7, 2019
The alternative route, Highway 91, has also had issues and seen multiple spin-outs throughout the morning, according to CSP. The state patrol said that "travel is not recommended through the I-70 mountain corridor." The slide comes just days after an
avalanche covered the highway
between Frisco and Copper Mountain. On Tuesday, CDOT shut down I-70 for hours for
planned avalanche mitigation work.
It has also caused the Colorado Avalanche Information Center to
issue an extreme warning
for multiple backcountry zones in the mountains. They're asking people to avoid the backcountry altogether because of the historic danger.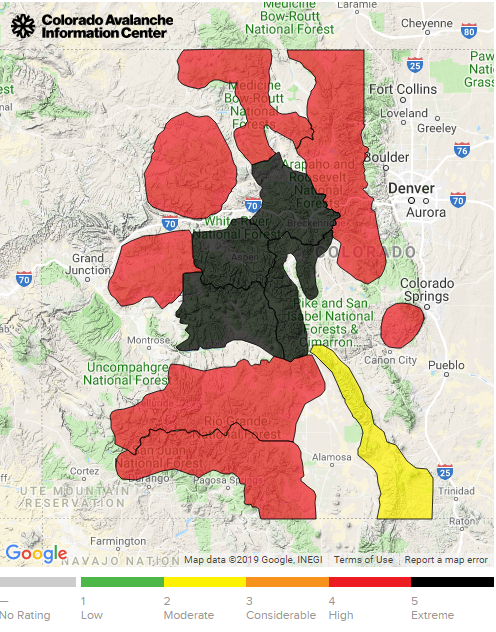 Fire & Ice Podcast
Subscribe to the Fire & Ice Podcast:
iTunes
 | 
Stitcher
 | 
Google Play
 | 
Spotify
 | 
Link
 | 
RSS
While avalanches are a part of the snow-covered Rocky Mountains, the winter of early 2019 has seen some high-profile examples. Avalanches, including those triggered as part of planned mitigation, have unexpected shut down highways for hours, and others have been caught on camera and gone viral across the country. In this episode of Fire & Ice, we answer the question: what does this all mean for people living around the snow and spending their free time on the slopes?