This is an archived article and the information in the article may be outdated. Please look at the time stamp on the story to see when it was last updated.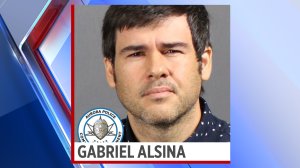 AURORA, Colo. -- A teacher at Vista PEAK Preparatory School was arrested on Tuesday for allegedly sexually assaulting a student, the Aurora Police Department said.
Gabriel Alsina, 35, was arrested at the school on Tuesday morning after a comprehensive investigation by authorities.
Authorities were made aware of the allegations involving Alsina and a female student at the school on July 26.
Police said he did not have any contact with students from the time the incident was reported.
Alsina has been employed as a teacher at Vista PEAK since July 2013. No further details on the incident were released. The case remains under investigation.
Anyone with information is asked to call police at 303-627-3100.
A letter was sent to Vista PEAK parents by principal Jason Maclin:
I have troubling news to share with you. We learned of allegations that a Vista PEAK Preparatory staff member, Gabriel Alsina, was involved in an inappropriate relationship with a student. As soon as the Aurora Police Department shared this information with us, we promptly placed the staff member on administrative leave. Please know that we take this matter seriously and are cooperating fully with the Aurora Police Department.

He was arrested this morning for sexual assault on a child by one in a position of trust and pattern of abuse. As a reminder, under state and federal law, a person is presumed innocent until proven guilty.

Mr. Alsina is a STEM teacher who has worked for Aurora Public Schools since 2013. When any employee is hired in Aurora Public Schools, we conduct a full background check, including a Colorado Bureau of Investigation review. The background check for this employee did not indicate any prior inappropriate behavior or criminal activity.

If you have any information that may be helpful to the police investigation, please call 303-627-3100. This allegation is deeply disturbing, and my focus will remain on supporting our Vista PEAK community.

Because there is an open criminal investigation, we are unable to share additional information about this employee or the criminal charges.
I want to assure you that safety is our top priority. As always, if your student needs help dealing with this news, we will have counselors available to support our students.