This is an archived article and the information in the article may be outdated. Please look at the time stamp on the story to see when it was last updated.
AURORA, Colo. — APD announced that a missing teen ended his life on Saturday.  Police called out to the public Saturday afternoon to circulate his photo and help find Jackson Langford, 16, who was reported missing and at risk on Friday.
Langford was last seen Friday around 3:30 p.m.
The following is a statement from the Aurora Police Department.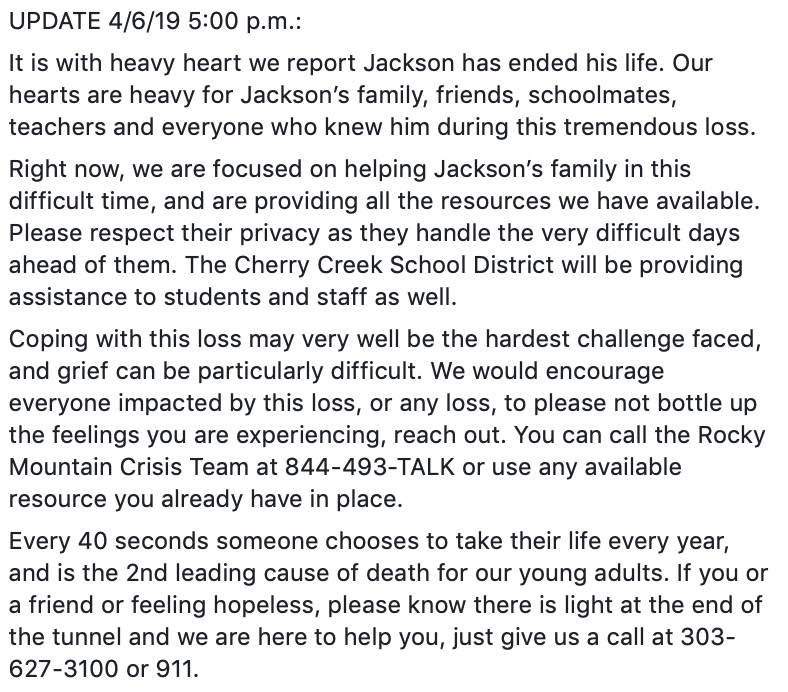 Suicide Prevention: Risks, tips for parents and educators
Suicide Warning Signs:
Many suicidal youths demonstrate observable behaviors that signal their suicidal thinking.  These include:
Suicidal threats in the form of direct and indirect statements.
Suicide notes and plans.
Prior suicidal behavior.
Making final arrangements (e.g., making funeral arrangements, writing a will, giving away prized possessions).
Preoccupation with death.
Changes in behavior, appearance, thoughts and/or feelings.
Medical Center of Aurora Behavioral Health: 303-360-3650
Aurora Mental Health: 303-617-2300