This is an archived article and the information in the article may be outdated. Please look at the time stamp on the story to see when it was last updated.
WESTMINSTER, Colo. – A suspect in several armed robberies is dead following an officer-involved shooting. According to the Westminster Police Department, the adult male suspect died after four officers from three departments fired their weapons Friday night in the area of West 92nd Avenue and Federal Boulevard. At first, an officer deployed his taser. Then, two officers from Westminster police, one officer from Thornton police and one officer from Federal Heights discharged their weapons. The suspect had a handgun, but according to a statement from WPD, it is unknown if he fired at officers. According to police, the suspect had committed multiple armed robberies with a knife throughout the north metro area Friday. He was targeting auto part stores, including one just before 8 p.m. on West 84th Avenue in Federal Heights. The suspect showed his knife to a store employee at that location after the employee confronted him. The employee has a minor hand injury but did not need immediate medical assistance. A few minutes later, the suspect's Chevrolet Silverado was spotted by a Federal Heights officer at the 7-Eleven at 92nd and Pecos Street. The officer waited until the suspect left to conduct a traffic stop, as there was no reason to believe the suspect was attempting to rob the store. The suspect, however, took off westbound on 92nd and ended up in a crash with two other vehicles at 92nd and Federal.
A man and a woman were transported after being injured in the crash. The extent of their injuries and conditions were not released by authorities. The suspect ran from the crash and several officers chased him on foot. Members of Thornton and Westminster police departments spotted him jumping a fence into the back lot of a tire store.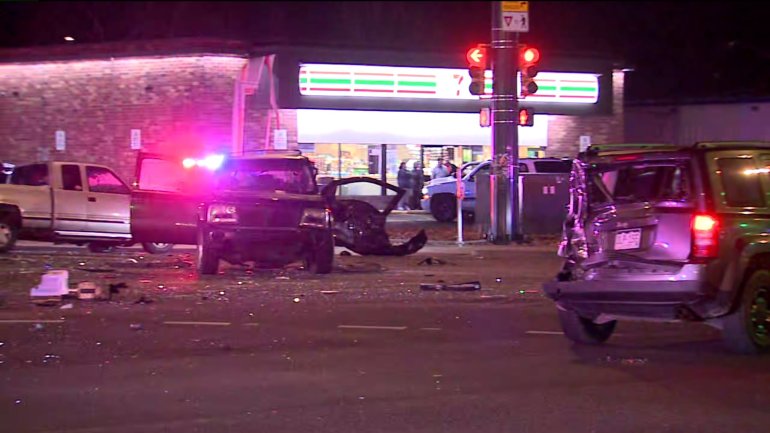 Officers utilized a K-9 officer and they established a perimeter. According to the statement, officers heard what sounded like gunshots coming from the fenced area. The shooting occurred when officers confronted the suspect as he climbed over another fence into a neighboring condominium complex. The Federal Heights officer was wearing a body camera during the incident. The 17th Judicial District Critical Incident Investigation Team is investigating.