This is an archived article and the information in the article may be outdated. Please look at the time stamp on the story to see when it was last updated.
ARVADA, Colo. -- Eight businesses were hit in smash-and-grab burglaries on Thursday morning, the Arvada Police Department said.
Police said 10 boxes of ammunition were stolen from the Arvada Army Navy Surplus store at 5701 Olde Wadsworth Blvd.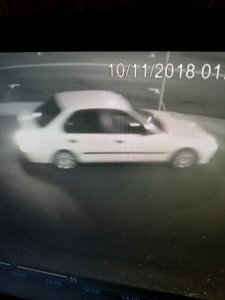 Other locations that were hit are Simms Pipe and Tobacco (11651 W. 64th Ave.), Arvada Laundry (11651 W. 64th Ave.), Donut Time (10370 Ralston Road), Gastronom European Russian store (10050 Ralston Road), Majestic Liquor (12385 W. 58th Ave.), Domino's Pizza (5804 Ward Road) and Qian Qian Massage (12355 W. 58th Ave.).
Police have not announced the other seven businesses that were hit, how much ammunition was stolen or if any guns were taken.
Police said four vehicles were seen in surveillance video at the stores and the suspects were in a white smaller four-door sedan.
Police said the suspects threw a rock through the glass doors, ran in and grabbed a bunch of items.
Police have not released any descriptions of the suspects.