This is an archived article and the information in the article may be outdated. Please look at the time stamp on the story to see when it was last updated.
LA PLATA COUNTY, Colo. — The 416 Fire in southwestern Colorado has burned roughly 26,500 acres, officials said Wednesday afternoon.
3 p.m. Wednesday
The incident commander of the 416 Fire said the acreage estimate was a little higher than Wednesday morning, up to 26,500 acres burned since the fire started June 1. The La Plata County Sheriff said officials are looking at their plans to start letting people return to their homes and reopening Highway 550 to traffic, they just don't know when that will happen. He says it's all dependent on the fire's behavior.
7:30 a.m. Wednesday
The 416 Fire increased to 25,900 acres overnight Wednesday, fire officials said. The fire remains at 15 percent containment.
The state's largest fire continues to burn in the San Juan National Forest, which has been closed to the public to try to prevent additional fires.
4 p.m. Tuesday
Burn out operations are taking place on the ridgeline west of Hermosa. The intention of this burn out is to stay ahead of the fire and slow its progress. The fire remains at 15 percent containment.
Residents evacuated in San Juan County will be allowed back beginning at 8 a.m. on Wednesday.
Residences in San Juan County due to #416Fire will be allowed re-entry beginning at 8 a.m. Wednesday. U.S. Highway 550 will be open to escorted traffic from noon-6 p.m. Wednesday & northern closure point will move to mile marker 49.5 just north of Purgatory. pic.twitter.com/mUmCPt6o0x

— La Plata County, CO (@LaPlataCountyCO) June 12, 2018
8:12 a.m. Tuesday
The wildfire has grown to 23,378 acres, according to InciWeb, a site that provides wildfire updates.
Containment remains at 15 percent.
Authorities said "critical burning conditions" continue in the area, with spotting being an issue leading to growth.
Crews continue to face challenging weather conditions. It will be dry and warm through Wednesday, with increasing cloud cover during the afternoon hours.
Winds will primarily be out of the west to southwest at speeds from 6 to 12 miles per hour and gusts up to 25 miles per hour.
Temperatures will be near 80 degrees with humidity values of less than 15 percent.
Moisture could arrive in the Four Corners region as early as Thursday with isolated thunderstorms.
"Fire spread on the west and north flanks of the fire is expected to continue, although activity should moderate if relative humidity levels increase through the coming days," officials said.
The nearby Burro fire has grown significantly to about 2,700 acres.
4:52 a.m. Tuesday
The fire is now 15 percent contained. Acreage remains at 22,131.
There are now 917 people fighting the fire.
Highway 550 will be closed Tuesday from mile marker 32 to 64.
8:40 p.m. Monday 
Despite an all-out air assault on the 416 Fire, the blaze continues to chew through the San Juan mountains, all just steps away from John Ogorzalek's home. "It's scary, yesterday we had a burn over here that got out of control."
That's why even though the fire has forced John and their family out of their home, they have the sprinklers on – a last ditch effort to protect their property. "We have a lot to lose here, we don't want to lose it."
Neither do the other thousands of people who've been evacuated because of this fire that's sending smoke billowing through the sky and shutting down the San Juan National Forest starting Tuesday.
Until the rain starts falling on these flames, there's a good chance the fire, and evacuations, will continue to grow.
Watch: Live cameras in Durango shows smoke from 416 fire
3 p.m. Monday
FOX31 and Channel 2's Matt Mauro says the 416 Fire has moved south and closer to Highway 550.
Breaking – looks like the #416fire has moved south and closer to Hwy 550. It's now burning a dark colored smoke from behind a ridge. Air drops continue. pic.twitter.com/pDCqdLnlO5

— Matt Mauro (@mattmauronews) June 11, 2018
11:07 a.m. Monday
La Plata County officials said U.S. Highway 550 will remain closed Monday from mile markers 32 to 64 (Cometti Lane to the top of Molas Pass).
10:40 a.m. Monday
Along with new acreage estimates, officials said the 416 Fire is expected to grow at a rate of .5 to .75 miles per hour due to gusty winds. The Fire Weather Potential Index is listed as "high."
Crews expect temperatures between 78 and 85 degrees. Humidity is expected to be as low as 6 percent.
The fire remains 10 percent contained with 813 personnel on site.
A map of the fire's perimeter was updated:
10:27 a.m. Monday
Health officials issued an air quality alert in southwestern and south-central Colorado because of the heavy smoke from both the 416 and Burro Fires. The Colorado Department of Public Health and Environment said Monday that if visibility is less than 5 miles, the smoke has reached levels that are unhealthy. The department expects winds to carry the smoke northeastward throughout the day Monday.
10:11 a.m. Monday
The Disaster Assistance Center  at the La Plata County Fairgrounds in Durango will be open from 9 a.m. until 1 p.m. on Monday. The center will have representatives from local and regional resources to assist those affected by the fire. The Red Cross, San Juan Basin Public Health and the Durango Food Bank are among the organizations that will have representatives available.
9:39 a.m. Monday
Officials said the fire, which started on June 1, is still 10 percent contained.
Aircraft estimated the new acreage at approximately 10 p.m. Sunday.
"Firefighters made some outstanding decisions yesterday in terms of protecting the values at risk," said Incident Commander Todd Pechota.
No structures have been lost. Protecting private property and infrastructure remains a priority for crews.
Weather conditions will continue to be challenging. Precipitation is not forecast until at least the weekend. Winds are expected to increase throughout the week.
"Until the fuel conditions change — which is going to require a change in the weather — we expect the fire to continue showing the same kind of behavior in the near and mid-term," Pechota said.
10 p.m. Sunday
San Juan National Forest officials said they planned to close the forest to the public on Tuesday. The closure will remain in effect "until the forest receives sufficient moisture to improve conditions." The closure is planned in order to protect natural resources and public safety, officials said.
The national forest covers 1.8 million acres near the southwestern corner of the state.
5:15 p.m. Sunday
The large wildfire had prompted the evacuation of an additional 859 homes in the Purgatory/Durango Mountain Resort, Lake Purgatory, Silver Pick Lodge, Cascade Village, Mill Creek and all residences on both sides of U.S. Highway between mile markers 46.5 to 53.1.
That is in addition to the more than 1,300 homes that were previously evacuated bringing the total to 2,156 homes.
La Plata County officials said there are 813 people fighting the fire.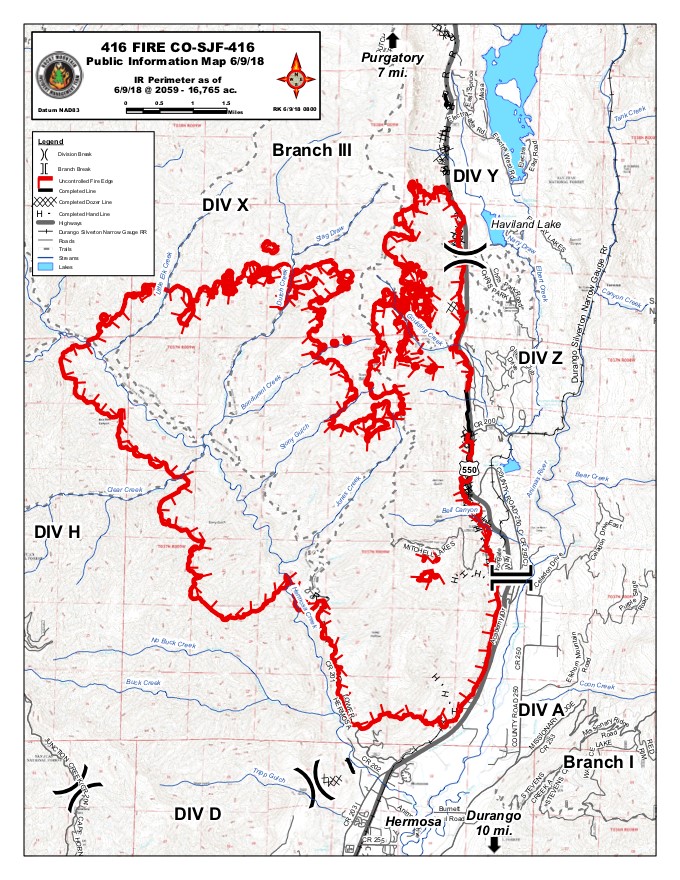 An evacuation center and shelter is open 24 hours a day at Escalante Middle School at 141 Baker Lane in Durango. Evacuated residents are asked to check in at the evacuation center to receive credentials for re-entry when conditions allow the evacuation order to be lifted.
Livestock can be evacuated to the La Plata County Fairgrounds at 2500 Main Avenue in Durango. The emergency call center at (970) 385-8700 can help coordinate pick-up of livestock. Small animals are being accepted at the La Plata County Humane Society, 1111 South Camino del Rio, Durango (970) 259-2847.
The 416 Fire started June 1 in the San Juan National Forest but the cause hasn't been determined. It comes amid a severe drought in the Four Corners area where Arizona, New Mexico, Utah and Colorado meet.
Traffic is restricted on U.S. Highway 550 because of heavy firefighter activity. While the highway is closed between mile markers 32 to 47, law enforcement will escort vehicles through the area between 8 a.m. and 6 p.m. daily.
6 a.m. Saturday
A type-1 incident management team took command of the fire Saturday morning, meaning additional resources will be deployed to contain it.