This is an archived article and the information in the article may be outdated. Please look at the time stamp on the story to see when it was last updated.
BASALT, Colo. — The Eagle County Sheriff's Office issued an urgent alert to residents of the El Jebel Mobile Home Park and the condos above to evacuate immediately around 10 p.m. Wednesday night. Strong winds pushed the Lake Christine Fire in that direction.
A tweet posted early Thursday morning told Missouri Heights residents to evacuate immediately and residents in homes east of Upper Cattle Creek Road were also told to leave.
#LakeChristineFire
This is a notification from PitkinAlert:
MISSOURI HEIGHTS RESIDENTS ARE UNDER MANDATORY EVACUATION NOTICE. ALL RESIDENTS IN MISSOURI HEIGHTS SHOULD EVACUATE IMMEDIATELY. EVACUATE VIA FENDER LN TO CATHERINE STORE RD, THEN TAKE H82.

— Eagle County Sheriff's Office (@EagleCountySO) July 5, 2018
Officials made the decision to move the evacuation center from Basalt High School to Roaring Fork High School in Carbondale.
The Eagle County Sheriff's Office said winds became so erratic late Wednesday night, that they warned people not to wait to be told to evacuate.
At least three structures have burned.
Lyn Bair, who was forced from her home said that they took the most important items with them as they fled. "Well, of course we're scared but we have our pets we have our kids…and we`re going to stay safe," she said.
If residents that weren't under evacuation orders felt unsafe, they should leave immediately and check in at Roaring Fork H.S.
#LakeChristineFire
Due to extreme fire conditions and erratic winds, areas being evacuated are rapidly changing. If you feel unsafe, please evacuate immediately; do not wait to be told to evacuate. We are working to verify details and will update ASAP with crew updates

— Eagle County Sheriff's Office (@EagleCountySO) July 5, 2018
Two people have been issued summons for allegedly starting the wildfire at a shooting range near Basalt Tuesday evening.
Twenty-four hours after it started the, Lake Christine Fire began had raced across about 2,800 acres according to what firefighters on the scene told FOX31. It was 0% contained though homes have been lost and no injuries have been reported.
The two people accused of starting the fire by shooting tracer bullets face 4th degree arson charges.
It started burning on the north side of Highway 82 about 1 mile north of Basalt according to the Carbondale and Rural Fire Protection District (CRFPD).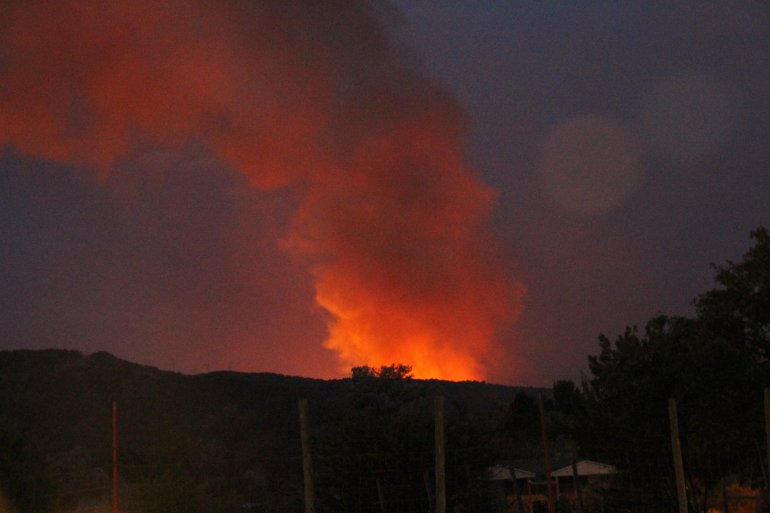 A number of agencies are fighting the fire in addition to CRFPD, including the Snowmass Wildcat Fire District, the Aspen Fire Department, Upper Colorado River Fire and Rifle Helitak.  Two helicopters and an air tanker are also working on the fire.
Mandatory evacuations include:
All homes east of Upper Cattle Creek Road
El Jebel Mobile home park and the condos above
Original Road
Silverado DriveLake Christine Fire grows to about 2,800 acres, new evacuations ordered late Wednesday
Hillcrest Drive
Sagewood Court
Pineridge area
Homestead Trailer Park
The Wilds (Promontory and Wildsprings)
Ridge Road
Pinion Drive
Cedar Drive
Pre-evacuation orders include:
Any residence between Aspen Junction and Big Pinion along the north side of Highway 82
Areas of Garfield County in the Missouri Heights area north of Highway 82 and east of County Road 100 are under voluntary evacuation orders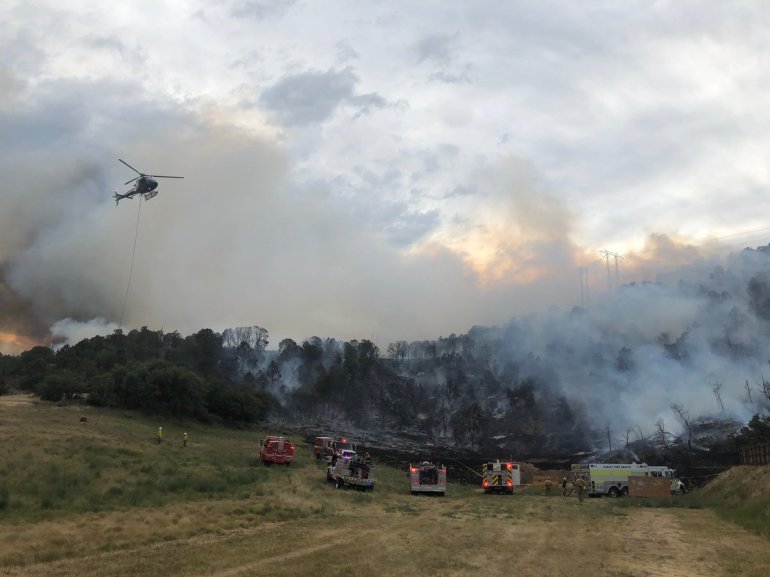 CRFPD said the fire was caused by people shooting tracer rounds, which illuminate a bullet's path after being shot. Tracer rounds are prohibited during Stage 2 fire restrictions, which are currently in place in Eagle County.
"The suspects have been issued a summons in lieu of arrest by the Eagle County Sheriff's Department," the agency said.
There have been no reports of civilian or firefighter injuries.
The Aspen Airport is reporting that the FAA's temporary restriction of airspace in the vicinity of the Lake Christine fire in Basalt has been extended to 9:15 p.m. tonight.
This will affect flights into and out of the Aspen/Pitkin County Airport. Check with airlines for flight information.